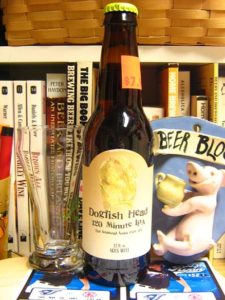 So I give the tickets away, come hope to find them, end up having have to dig through the recycling to find the envelope and there it is – and it is not for the Jays against the Tigers…it's for the Thursday night game next week against the Sox. I am so there.
Good reason to break out the good stuff. And not just because the last "Week of…" post never got finished with the review of this particular example of the good stuff. One reader wrote about how those long posts were messing up his RSS reader because I wrote them over time. Well, I get the point. "The Week of Eleven…" anythings is too much so we will evolve that little theme next time. See. I can both create and evolve.
On with the beer. This one pours a clear orange butterscotch with an orange cream head that resolves to a thin rim. Booze and orange marmalade on the nose, there is plenty more of each in the mouth. But there is other stuff. Lemon curd creaminess and decent graininess for a big beer with a relatively dry setting. Not overly hot from either the alcohol or the hopping – amazing considering the 120 IBU and whopping 20% booze. This one 12 oz bottle equals five standard Canadian light beers. The hops are both herbal minty green and somewhat tea astringent. Oloroso sherry. 92% of BAers get it.
Oops – it is heating up now.