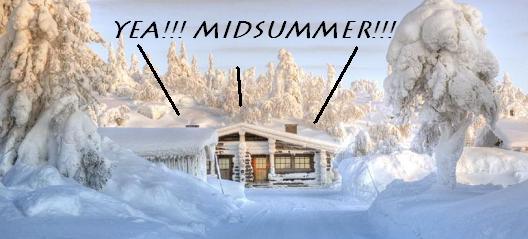 I can't tell you my Finnish joke because I told you in 2008. It was in a post entitled "Tonight Is The Night To Drink Like A Finn!" but I now understand that this week is the week to drink – and eat – like a Finn:
The amount of sausage Finns consume during the Midsummer week is approximately three times as large as normal. For example the Midsummer sales of the food producer HK's grill sausages amount to almost a million kilogrammes, reports Antti Paavilainen, Senior VP of sales at HK. And with their sausages Finns want to drink beer. Lots of it. Around 4.5 million litres of beer are sold around Midsummer – about 50 per cent more than during normal weeks.
Apparently, it all happens at the back country cottage, especially in the sauna: "…traditional saunas right down to the wood fire that's best lashed with beer to give the steam the yeasty flavour of a bakery." So, you drink beer in a sauna that reeks of beer and, no doubt, soon come to be soaked in beery sweat, too. That does not sound too bad. And that's not fiery enough, you are supposed to trot off to the bonfire to top off the day before another round of beer and sausage.
This cartoon from a guy called Seppo seems to sum it up.