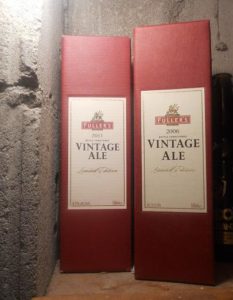 In December 2010, I decided that I had to get at the task of drinking the Fuller's Vintage Ales that I had been hoarding in the stash. I figured I needed to compare beers that were brewed five years apart and posted the '05 v. '10 results. Now, it's time for the second edition comparing 2006 to their 2011. First, one thing to note is that I am using 200 ml German glasses for this experiment. See, the thing is, this was the week that the pint was dissed to a lower point than I have ever seen it dissed. My choice of glassware reflects that brave new world where reasonable measures of beer are a thing of the past. Still, I am sure these tiny tiny Teutonics will not let down this litre of greatness as they are wonderful wee things in themselves.
I reviewed the 2006 back in the day. It has clearly improved according to that description… or maybe my powers of description have. It now gives off an aroma of fresh bright orange marmalade on malt bread. Oddly, the scent is much stronger than the 2011 which gives off some booze and a bit of beef broth with not a lot more… or at least not nearly as much.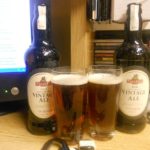 In the mouth, again there is no question that the 2006 is a bigger more complex beer at this point in its life. It's got the malty smoked thing I noticed in 2006 and I get the green fig as well. But the texture is no longer what I likely meant when I wrote grain. It's more like baseball glove leather now. Quite sweet as well. But well cut by what I had called black tea hops. They are now melded much more neatly together to give a sort of rose water effect. The 2011, by comparison, tastes of beer. There is a fresh acidity but the malt is a bit undeveloped. I had a 2006 Thomas Hardy Ale yesterday and it informs that idea. That pleasant little variety of acids that are in both '06s of the last 24 hours sit dormant in the 2011's pear juicy sweet ball of pale malt. The '11's box and insert card tells me that the malt is organic but not the variety. In 2006, the malt was Optic which the OCB tells me is the most widely planted variety in England.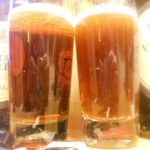 First 400 ml down. Unlike the 2005 v 2010 comparison, I would not suggest the younger beer is cloying. It has a rustic hopping that is a bit twiggy and a bit menthol. Goldings, organic First Gold and Sovereign hops were used according to the box. They give a bit of a licorice effect at this point which may unpack into marmalade with time. I will let you know in 2016. The 2006, by contrast, relies on Fuggles and Super Styrian hopping. The OCB tells me that the Super Styrian – as opposed to the pending Super Dooper Styrian – is itself a form of Fuggles. From my lost homebrewing days, my world of English beer is divided into three: Goldings, Fuggles and Northern Brewer. I think 2/3s of this are demonstrated before me. The older beer leans to the hedge. The younger is more floral. Quite content to be the Mayor of Simpleton in such matters, it's a distinction that works for me.
The head of the 2006 is worth comment – fine, densely packed off white bubbles giving a very appealing visual creaminess and a lovely maker of rich lacing. Otherwise the two beer appear to be quite similar. The elder is a bit clouded but I don't care about the sorts of things. Each a very attractive deep orange amber ale.
700 ml gone and I am just going to enjoy the rest.. This is as high a point in my beer experience as any – and one that only cost me about 15 bucks and just half a decade. I am little proud of me. I was very sensible to start this series, to start saving these beers. The process may well see me out now that I think of it. There are far worse markers of another year's passing.