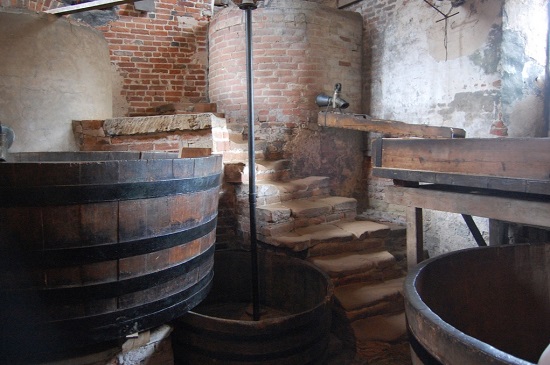 Charlecote Park. Hmm. This is interesting:
Charlecote's brewhouse has mostly 18th century brewing equipment, water pumps, coppers and stalls. It is a typical brew-house of a well-ordered English country estate during late 18th century. They equipment was used to brew beer for the household until early 20th century. Although we can no longer use the equipment that is here we are currently working on a project to make the outbuildings feel full of life again.
Now, you might ask why a four year old blog post by the UK's National Trust would be all that interesting to me but in those four years I have written a lot about brewing prior to about 1820 and never looked at the archive of images they have placed online.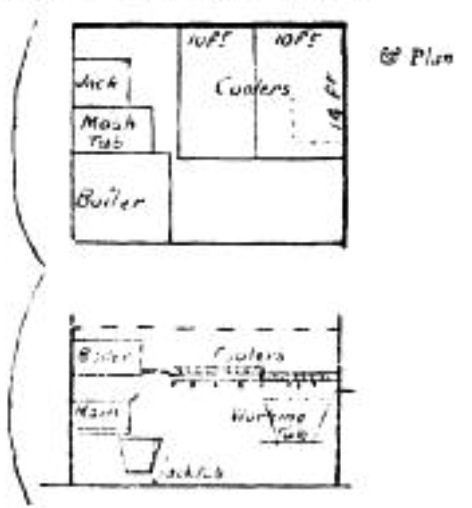 What I particularly like about this particular image above* is how well it captures the functional technicalities as well as how similar the equipment is to the detail of a log cabin brewery at Geneva, New York described in the 1803-04 travel diary of Lord Selkirk. In the lower part of the diagram you see the boiler run off into the coolers. In the photo above, that lovely big brass tap and the wooden trough with that rich patina replace Selkirk's simple line of ink.
Here is another image** of the brew house, one in black and white taken from the top of the stairs. Notice how at the far end of the cooler there is a cube shaped ladle that is used to fill the barrel which sits in its dedicated spot, its own carrel, waiting. Again, as illustrative as it is beautiful. When we consider many of the great mass drinking events that the Georgians loved so much, we recognize that it was these sorts of estates breweries that were brewing the beer.
There are other images at the National Trust archive answering to the searches "brew house" and "brewery" which, as a keen admirer of the Beer Blogger's Code of Standards, I share for the benefit of sharper eyes than mine.
*See the attribution at the NT site.
**See the attribution at wikipedia.