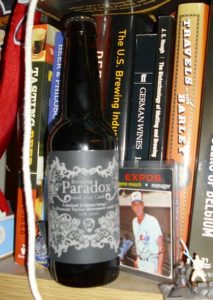 What a mess. I hadn't realized the label was made of hard card stock stuck on with two-sided sticky tape. I might take it down to the lab and get James' near teen DNA off of it. Bottle 131 of 200. By opening it, I probably just threw away the 100 bucks I could get from some guy in Kansas on eBay. Sent as a sample by the brewery when they were but boys a few years back. I decided to open it after watching a little Horatio Hornblower that was accompanied by a Bourbn County stout. No doubt you have known that moment, too.
As promised, it is all Islay on the nose, the beloved smoky low Islands Scots whisky. Land of my fathers. Because the stout sat in a barrel of the 1968. My mother's cousin-in-law was a canny and, for the Clyde, stylish post-war whisky broker in the southwest so I am sure he would approve. He certainly would recognize it. Deep deep mahogany under mocha rim and froth. Aroma of the malt but in the mouth it is sharp. At first, a hammer of old Dutch man's licorice with all the salt that goes along with seaweedy Islay – then something like a stout with something like a whisky. It isn't really anything like "balanced" and I wonder, honestly, if it is more of an artifact than a beer. Dry and a little like something I would call harsh but on the lovely side of harsh. Descriptors like "whopping", "foolish" and "two by four to the head" come to mind. Planky. Sae halp ma bob. That is all I can say.
One sole BAer went mad for this early Holy Grail like example of experimental 21st century UK brewing.