To start, I have done what every good beer writer does – I have stolen something. The image above is the lower slice of the cover image used by Boak and Bailey for last Saturday's edition of "News, Nuggets & Longreads" and it snapped my head immediately to attention. Wow! See what is going on there is in the anonymous 1890s pub? Careful readers will recall my 2012 search for better drinking vessels and in particular my love for my pewter quart pot* which is happily put into periodic use. When conducting that search care of Messers E & Bay**, you see these quart pots with spouts that I figured were altered and re-purposed for household reuse after the era of quart in the pub normality left this Earth.  But NO! They are for pub use, the buyer purchasing a quart measure but serving himself with it but drinking from the smaller glass instead of the pot. No wonder the spouts are all at 9 o'clock to the handle's 6 o'clock. So the right hand can pour to the left. A jug built for serving someone else is always spout at 12 o'clock to the handle's 6 o'clock. Perhaps this was a quart of strong ale compared to to a quart of a lighter weight beer? Now I want one of those, too.  And so should you all.
James Beeson on a year writing about beer from the rare perspective of journalism. Also see Jeff on the same. J + J are both correct.  Certain brewers and many PR folk have an issue they have to deal with. We might call it "greater society."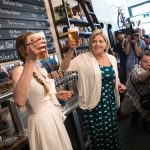 One week until the vote is in for Ontario's election and NDP leader Andrea Horwath has given us another "candidate with a beer" photo. The scene is Brothers Brewing in Guelph. I prefer the Canadian standard "politician beer pour" pics personally but seeing as this was actually tweeted on the official party feed, I'm more than pleased. Unlike the last national election in 2015, beer is an inordinately active topic in the election so far – and is being picked up by the news organs covering the race. In fact, they are being even so clever as to seek out knowledge such as in this article where Macleans magazine quotes from and even includes a hyperlink to the blog of Jordan St. John! In one of the oddest Ontario election promises ever, conservative leader Doug Ford has promised the return of buck-a-beer cheap lager. That was a thing until 2010. Jordan unpacks the many many ways that this is never going to happen. My tweet:
Ontario's "buck a beer" went away when a big corporation bought a smaller corporation, shut it down and sold off the equipment. Not a policy matter. And government can't force brewers to make cheaper beer.
Mr Ford may well be our next premier but no one has accused him of being all that bright. Five years ago, The Globe and Mail*** accused him of  selling hashish for several years in the 1980s but no one has accused him of being all that bright. Dumb.
Hail in Bordeaux on May 26th. One-third of Blaye heavily hit. Drag.
Martyn Cornell posted about running ads on his blog. I used to do that a decade ago. Good money. Folk are always seeing us there is a way to recoup the cost of all this. And they should. Hilarious observation in the comments from a reader remarking on folk jabbing about the ad selection:
Other posters — the ads you see *might* be determined by cookies on your machine indicating what you've previously been viewing so maybe be a *bit* careful before announcing what's showing up for you…
Me, I don't really care about the financing of this here publication any more as digital historic research is less expensive than my other hobby, sewing suspender buttons on trousers for work.****  Seeing as, me, I don't travel and don't hang out in pubs I really don't have a love-hate relationship with my problem writing anymore. I have a backyard. I have a rec room with an old Lay-Z-Boy. It's all working out.
Note: any brewery drawing water from the Great Lakes south of Sarnia is pretty much making a dilute processed sewage water beer as well. Not to mention it all being DINOSAUR PEE!!!!
Folk are still waiting for the apology that will never likely come. See, Beavertown has been talking to Heineken after all. As noted in your May 17, 2018 edition of the Thursday news, those who saw this coming were "rumour mongering" and spreaders of "falsehood" – which have to be two of the most infantile over-reactions in hard scrabble beer consulto history. Way to go. The fun continues as Beavertown lands a deal with Tottenham football club serviced no doubt with approval of Heineken, the club's official beer sponsor – but wait! One tiny voice shouts "HOLD THE PRESSES!!!":
Nothing has been confirmed. Could be completely unrelated – collaboration could be within the stadium only – but there are no sources saying either of these things are true.
And monkeys might be circulating in trousers. What a mess. Having negotiated sports stadium bevvy deals, it is pretty obvious that there is a connection… as it would be to most. Does anyone think that Beavertown or Heineken have two law firms isolating these sorts of deals with the same parties from each other? Yeah, that make sense. Plenty of sense. But no: the last few weeks' simmering sneer of discredit suddenly has an implicit claim of special access "the sources"! And, suddenly, now rumour mongering is in!! The core self-branding strategy prime directive is pretty obvious… still, I like to read along these sorts of aggrandizement cub reporting mongers with the sound of a teletype or stock ticker clacking along in my mind. It helps.
By contrast, the ever excellent Ben Johnson has written about a wonderful new addition to the Ontario beer scene – the Toronto East End brewers collective. One of the dumber things about the "independent" aspect of the craft beer movement is how it depends on followers aligning into lock step with messaging coming from the tenured staff of centralized national scale trade associations located far far away. The Orwellian scenes at the keynote speeches of the annual Craft Beer Conference look like something out of a mass reeducation session. I hear they chanted "Gose is Good! Gose is Good!" at the end of one of these back in 2016. Newsflash: it often isn't. Far better it is, then, to read how some are fighting back against mindless homogeneity even in a local scene:
"Most of the breweries in Toronto who have been the beneficiaries of media hype (deserved though it may be) are all clustered in the west end," he says. "There's already this ridiculous 'cultural divide' that makes people in the west end feel like traveling east of the Don Valley requires a full day of logistics planning and we're hoping to dispel much of that nonsense."
Fight the power. Fight the good fight. Fight! We need more of this. Dump those who aspire to "big and controlling" whether in association or in distribution or beer writing or whatever. This nano-political statement is the next logical step for "local" and it is welcome if not long overdue.
And with that, I leave you. Once again the goodness in craft is defined by the local, ungrasping, interesting and kind. Alcohol and money have their powers for sure – but peril lies that way. Both for those who speak in that fashion and those who bother to listen. Much more fun is the real. Next Thursday is election day! I even have an orange sign on the lawn.
*You do all know that a tankard has a lib but a pot does not, right?
**Stolen this time from Norton of Morton.
***Toronto's national newspaper.
****Good set of buttons costs about $3.50. Tops. Lots of colours and sizes, too. Don't get me  started on vintage buttons made of deer antler…