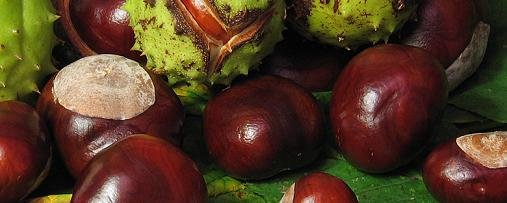 I think I only know about conkers because I am the child of immigrants. When I was little, grandpa came over from Scotland and was quite pleased to see that the schoolyard had a chestnut tree. Away he went picking up the windfalls and – all personal ethics and the Conkers Association rules being apparently damned – he soaked them in vinegar and baked them in the oven. After stealing all my Dad's shoelaces, he drilled a neat hole in each horse chestnut and sent us off first to teach the game in the playground and then destroy hopes of all our elementary school classmates through unleashing the doctered nuts on the unsuspecting.
Apparently, some dreams are harder to dash as this story shows:
The Eagle pub in Askew Road, Shepherd's Bush, held the tournament on Sunday which was attended by around 20 people…General manager Linda Sjogren said: "People were cheering the contestants on, there was lots of enthusiasm. "One of our regulars had collected about 60 conkers from a secret location. We still have some left over."
The winner got a free pint a week for a year. Note: 20 contestants. Good news that it does not take a large crowd to actually pull off something so pleasantly batty in any given pub. Good also to know that there is a World Conker's Championship held each fall in case your ambitions aim even a bit higher still.