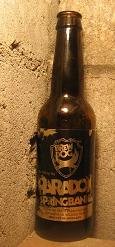 "It smells like the granary when it's filled." I think that is what I was told but it makes sense.
It pours – imagine – rather deep brownish and has a rich mocha froth and foam. The nose in delightful. Fig and chocolate, milk and bread crust. Like a rich child's breakfast in 1710. The mouth expands with both smooth and whisky sharp. Not Lowland, Campbelltown. Barely a "hodge yer whisht" from the land of my forefathers off the far eastern side of Arran. An amazing swishy mouthful of softness, grain, roast and shadow of burn. Batch 17 in the Paradox series. "Awfy braw" were Oor Wullie asked.
BAers don't do subtle. The lips tingle from the water of life.