A busy week. In a way, much meatier than usual I'd say. But I'd say that, wouldn't I. I am only trying to suggest there is something here below that is worth the next six minutes of your life. And I have thousands of posts, don't I? Some of you have read most if not all of them. My blog posts. Thousands of six minute packets of the little bit of life God gave you. Hundreds of hours. Think about that next time you look in the mirror. And now… the news.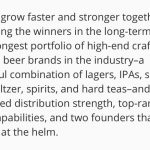 Clever Barry in Germany spotted the most interesting aspect of the news that Sam Adams and Dogfish Head are corporately co-mingling here on out. Have a look at the bit of the press notice under that thumbnail: "craft and beyond"!  The whole thing is so disassociated to actual interesting small scale local brewing that I feel a bit odd addressing the matter at all. Some might be impressed with the dollars at play and some at the funny way its about "Sam and Sam" but its really a dull tale – if only because it's been over a decade since I bought any of either brewery's beers as far as I can recall. And it really wasn't anything like a merger. While I don't think that personality matters to beer culture at all, except as being suckers to branding, I do agree with Jeff otherwise that the deal is a bit of a head scratcher. My hot take?
Wow! New Kids on the Block have announced 2019 summer tour sharing equal billing with the Backstreet Boys.
Robin and Jordan* first announced a new Ontario Craft Beer weekly podcast and then, despite all rumours, released the first of their new Ontario Craft Beer weekly podcasts. I don't like podcasts as what takes six minutes to read becomes thirty minutes of listening and, well, just reread that first paragraph up there. Adds up. Yet I liked listening to this one given it is informative and bright light entertainment – but I am not sure I will go back over and over and spend 1/48th of a day a week, 1/336th of my week, 1/224th of my waking week listening on a regular basis. I have a lawn to mow, for heaven's sake. Condo residents may, therefore, approach the matter differently.
This is one of the best beer culture video archive gems yet: the only pub in Scandinavia in 1965.
Speaking of Scandinavia, Martyn has absolutely taken one for the team by describing in inordinate detail his thoughts on a very dull new drink: Carlsberg Danish Pilsner. Reflecting on his past life with the thing within the green label, he wrote:
I don't have anything against big-corporation beer in itself, but I do have a big problem with dull beer: I can't drink it. I have a very low boredom threshold with food and drink (and most other experiences, actually) and I would literally rather drink nothing than drink more than a couple of pints of beer with no interest. And that Carlsberg: it wasn't actually bad, or faulty, it was simply a cypher, a blank hole where beer should have been. There was no pain in drinking it, but it was a hedonistic vacuum that actively repelled me, that made me not wish to experience this beery nothing.
Fabulous.
The big news in beer law is that Guns N' Roses are suing Oskar Blues Brewery, the brewery that labeled a beer as Guns 'N' Rosé without, you know, asking:
The complaint says Oskar Blues applied to trademark Guns 'N' Rosé last year and abandoned the effort after the band objected. The lawsuit says the brewery is still selling the beer and the merchandise. The band wants a court order blocking the brewery from misappropriating its name, destroying the products and turning over profits from Guns 'N' Rosé and other monetary awards.
Seems to make sense. I mean, the whole mash-up Boing Boing e-culture of 2003 died an ugly death a decade and a half ago, right?
The big other news in beer law are the allegations that BrewDog improperly appropriated the idea of an advertising agency named Manifest when it was creating its Punk AF brand. Apparently it is another beer I have no interest in buying as, like much bulk macro craft, it is over priced, over branded and in this case, pretty much no-alc. Could this story be more boring? Duller that Sam+Sam? Not sure. One response from multimillionaire top law school grad cottage industry owner Mr. Watts was a bit poorly stated and this just looked bad. But INCITE web-mag-thing thought otherwise and interviewed the CEO of Manifest:
As such, our creative platform was called 'Punk AF', playing with the fact AF can mean both alcohol-free and 'as fuck' but also unlocking their biggest brand asset – their flagship beer Punk IPA. This is the central 'idea' to our concept. It's simple, yep, but it's rich in thinking and precisely answered the brief. Or so we thought. When they said they wanted to pursue another direction, we understood and moved on. When I saw a preview of Punk AF on Twitter in January, I flagged to BrewDog that this was our concept – I received no reply.
My only comfort in all of this is that the word idea is in quotation marks up there. Setting aside the actual details of the commercial dispute, I think Mr. Oliver's thoughts on an entirely different matter might still apply:
There are a lot of folks out there who need to understand: If you can get yourself into a state more frothy than "mildly annoyed" over beer…there is something seriously wrong with you. And, btw, you are not "important" to the beer world, okay? Me either. Get. A. Life.
I like this idea of putting the consumer more squarely in the middle of the :
A craft-beer bar with prices that fluctuate with supply and demand is planned for downtown Detroit… The owner of the Kalamazoo Beer Exchange, where beer costs move up and down like stock prices, "now plans to open a Detroit Beer Exchange" at 1258 Washington Blvd., in the Stevens Building… The Kalamazoo bar and restaurant opened in 2010, with 28 taps and prices that change up-to-the-minute as well as occasional "crashes" that for five minutes bring every beer to its lowest price — such as $2.50 for a Bell's Oberon or $1.50 for a Miller High Life…
See, I would just happily ride the trough caused by the off set of the folk chasing the tale of trend. That could work out very nicely if one was prepared to sadly wallow in last year's model.
I am stopping there. Don't forget to check out Boak and Bailey on Saturday and Stan on Monday and if you are into podcasts, see if Robin and Jordan keep it going next Tuesday. The week is filling up.
*Also star of radio and TV! Well, he was on province-wide public radio and TV on Wednesday.