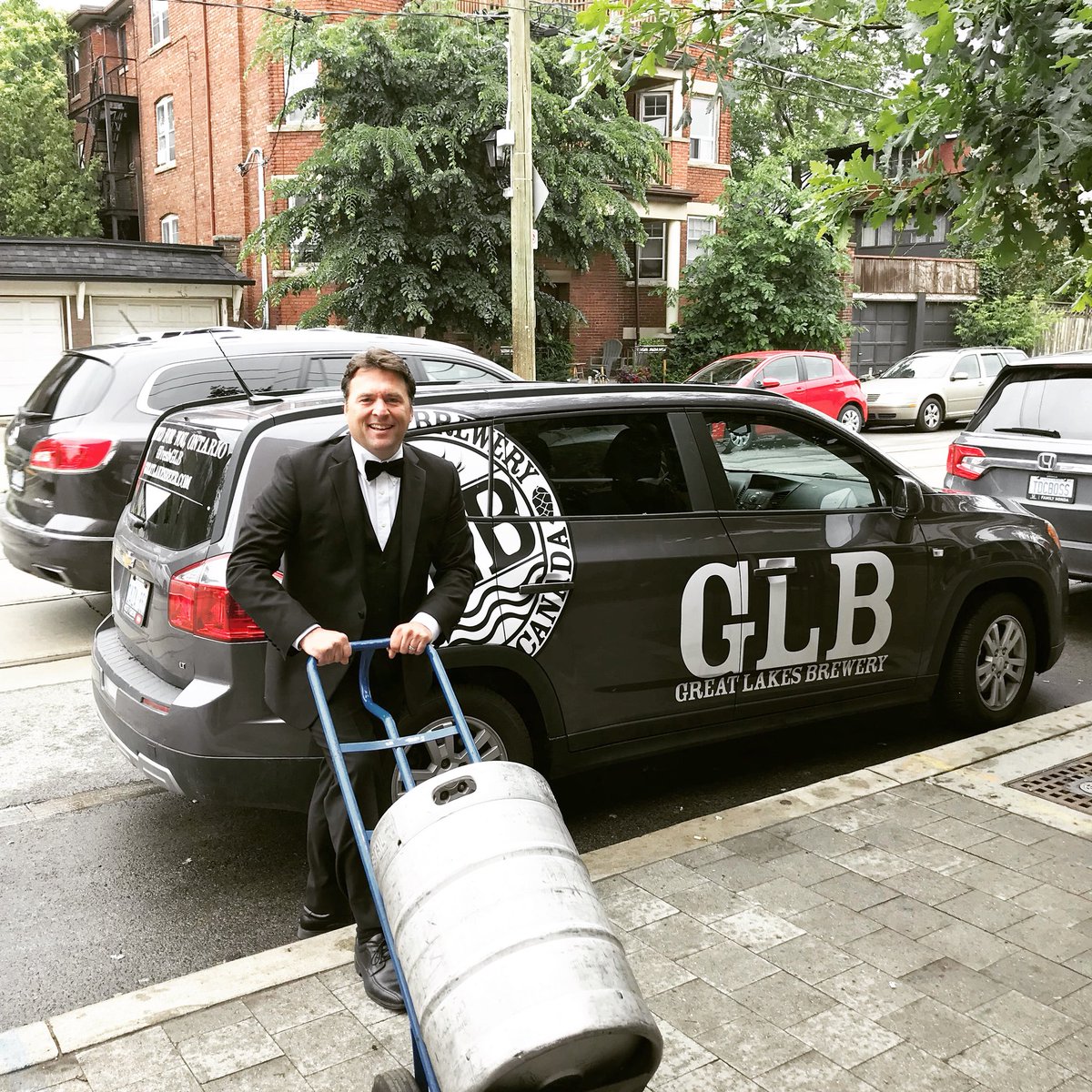 Big day around these parts as the lad graduates from high school today. Victory! Burn the text books!!! He's outta there!!! Speaking of ceremonies, let's just jump into the good news this week with that fabulous photo of a Great Lakes Beer* delivery to a wedding party last weekend. You ever notice the breweries you really like are, you know, really likable? Great customer service.
Speaking of fabulous, M. Lawrenson issued a fabulous edition of "News in Brief" last Friday and coined a classic: "Bud Gear Hunting"! I giggled all weekend over that one.  It is a wonderful thing to watch one man battle the humourlessness that good beer has fallen into. You know how people keep having to say "remember – beer is supposed to be fun!"? That sorta thing is needed to be said because it isn't always much fun. And if you label this or that cynical, well,  you really need to get a fish.
Speaking of needing to get a fish, this vacuous response to a well placed query about shelf life QC was stunning… or stunned. Apparently (1) it is up to consumers to monitor the problem of stale dated beer on behalf of big craft (ie the ones with money enough) and (ii) the proper response to queries about why big craft can't manage shelf life QC is:
And speaking of Collabs, that's something we've been doing since 2004 or 2005. We've helped some awesome small breweries get attention they deserve, and have worked with some of the best in the biz. Super stoked to think about all the fun and great beer we've had over the years.
Now, that's a wee bit cynical. Almost as cynical as attempting a pile-on while blurbering incoherently about "being indie" as if anyone cares. Folk should just try for likable more often. Who cares about "indie"? Better ti be likable. It is nice to be nice. Did you know Great Lakes Beer takes care of their own shelf stock to make sure that it's fresh? Plenty of local brewers do. Because they can. That's nice of them, isn't it.
Refreshingly, there are actually clear headed people out there getting to the point of what makes for a great moment out in a pub and having a beer, people who are able to tell you what it is we really love about this whole obsession:
The result was a beer that warmed and lost its head too fast and by the end tasted like something that had been left on the bar for two hours. Of course, this poor bloke was alone and incredibly busy so he could be excused. Bollocks! No, I was the only client inside that pub and there were only two or three people outside.
Speaking of nice, the Drunk Polkaroo has been tweeting poetry.  "Open. Pour. Drink. Repeat." is amongst his finest works. Ah, beer poetry. Beer Haiku Daily was a favourite of mine. Remember that? That was great. When people enjoyed just clean beer fun.
Here is an inordinately detailed discussion of Untappd that unpacks that craft-specific phenomenon of reluctance to acknowledge customer opinion. I've never bothered with Untappd but if you had you might want to have a look.
I am with Jason. As I said last week, it takes a bit of craft-quality amnesia to not understand that the microbrewers and then the craft brewers from the late 1970s to the early years of this decade were largely cloning the styles of Europe including, largely, the ales of Britain. So, while Matt is correct to suggest auslanders are reluctant to embrace UK craft, the diagnosis is not as suggested.  UK cask is one of the foundations of US craft and, frankly, UK craft has taken on wee too much cloning to stand that much apart. And hyperventilating. A bit of that, too. Not unrelated, there now is a Trappist brewery in England.
Serious but strong thoughts from Dr. Jackson-Beckham.
Finally, an actual serious story about the passing in Atlanta of Minnesotan Todd Keeling, a beer dispense system inventor, that Tom brought to my attention:
A fast-talking tinkerer and father of four was at SunTrust Park to install his beer tap invention when he died, his family told The Atlanta Journal-Constitution on Wednesday… Kuchta said her nephew was excited to learn that another MLB stadium wanted his beer tap technology, Draftwell, which was going to cut down pour times at SunTrust from a 14-second average to five seconds.
We engage in health and safety considerations throughout all the construction work I am involved with and we are always aware how dangerous familiar workplaces can. That is as true in all aspects brewing as any other industry. Very sad.
I will leave you on that note for this week. Remember to check out Boak and Bailey with the news on Saturday as well as Stan on Mondays.
*The one with the Great Lake being Lake Ontario and the location being Etobicoke and not the one with the Great Lake being Lake Erie and the location being Cleveland.