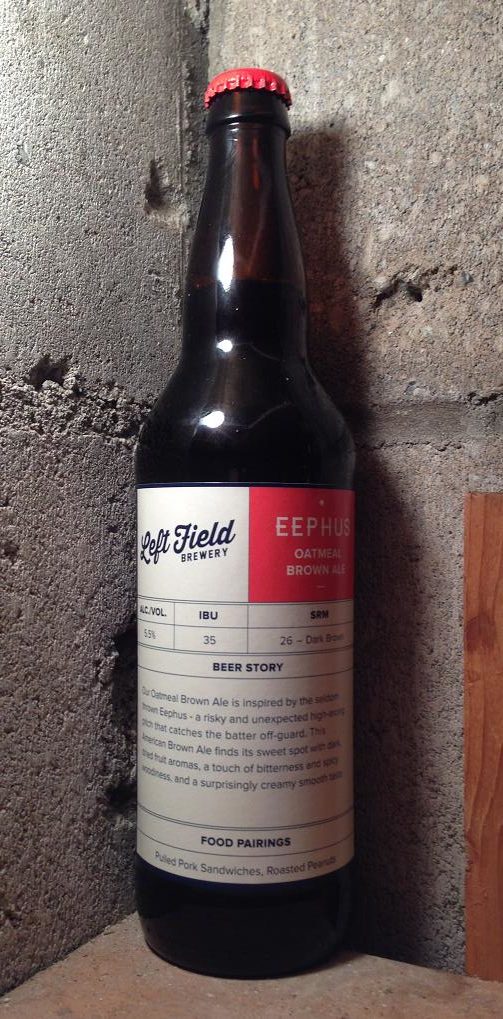 I think I only dislike one thing about the prospect of drinking this new beer. I have a strong suspicion that Jays fans made it. Have I mentioned I really dislike the Toronto Blue Jays? Years ago when I bounced in a bar in London, Ontario there was another bar down the road all done up with Detroit Tigers memorabilia except for signs that said "Jays Suck" which I loved. See, as an Expos fan since '67 when I was a toddler with a cap and '73 when I saw the Yanks lose at Fenway, I have had a dual allegiance. One sadly past. One present. Yet… I love baseball. The season starts this weekend. Spring, summer and fall all lay before me again filled with baseball. See, I have done this. I have hit doubles in America in recent years as a rather fat man off a better player than me. I have hand lathed bats. So, the baseball theme chosen for Toronto's new Left Field Brewery has me.
But how about the beer itself. Start with the bottle. Note the Mississippi mud hue of the label's background tone. I have a ball in that hue from the day I watched the Sox smoke the Jays. A one pitch knuckle ball with the Wakefield fingertip inprints and the Vernon Well's pop up all marked. Far defter branding than Coopertown's even if I do have the yellow t-shirt. The aroma is date and brown bread. Lots of molasses but something herby spicy, too. Verging on Abt 12 with half the alcohol. Mohagany ale with mocha cream lacing foam and rim. Lots going on in the swally. There is that smoothness one associates with oat but also enough placement points of hop over the arc of the quaff that you are aware this is not someone's take on Peculiar. Yet, that dripping brown malt. The blackstrap. The nut. The bread crust, dry cocoa and black tea. It is also a rejection of all those trendy needy nanos. It's, bear with me, reminding me of the intention behind the Whale. Beer for people who like the taste of beer. And a bigger beer than its strength. I had an oatmeal stout from Quebec's Le Castor earlier and was only disappointed with its heft. None of that here. Heft to lend.
I am given to understand from one young pup to my west that this bottle is not actually for sale but zooped up for samplin' and reviewin'. It can be bought around town on tap in the Big Smoke. I don't go there much. Next time I am there, I am finding me some of this.