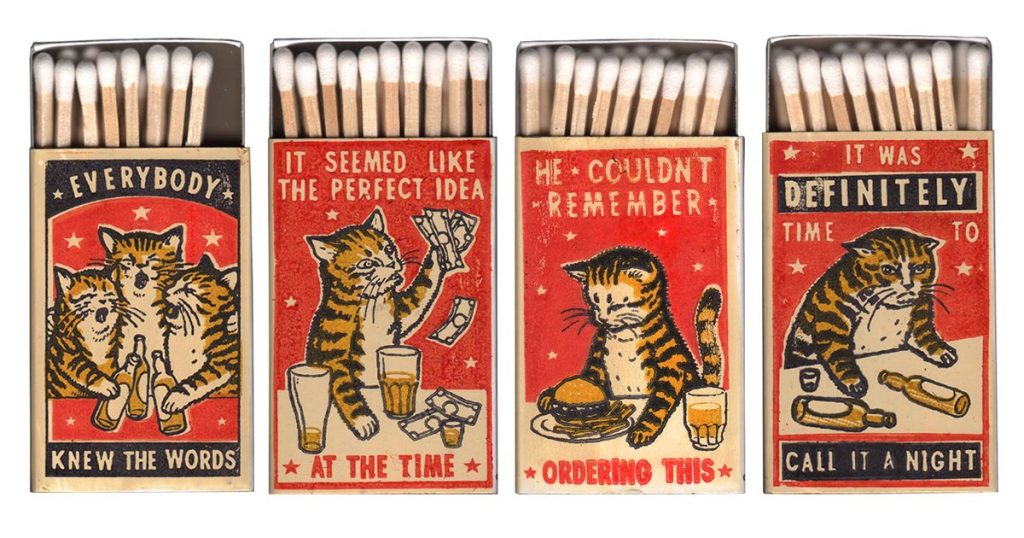 This is going to be great. A weekly news update laced with the holiday spirit. Everything is going to be wonderful and swell. The one and only problem seems to be that I seem to have some sort of new sys admin tool on the bloggy app of mine so bear with me if this all ends up looking like a dog's dinner* or… thinking of this season of Yule… the day after Christmas dinner with distant cousins!  Footnotes and embedded images seems to be a hassle. Fabulous.**
Anyway, the first gift I offer is the photo of the week above, found on Twitter under the heading "Matchbox Covers Depicting Drunk Cats by Artists Arna Miller and Ravi Zupa." Cats have always struck me as a struggling species. You can find more images of beer loving hardly coping cats with serious drinking issues by Miller and Zupe here.
Next up, the new government of Ontario has its own gift for us all – a plan to distract us all from the important business of the day to ask us how liquor retailing should be changed! Wow!! The survey even comes with a dumb name, "Alcohol choice and convenience for the people"… which has everyone wondering when the same survey is going to be rolled out for, you know, squirrels and chipmunks.  Or drunken barely coping cats. Fill it out if you like. Even you! Apparently  they are interested in views from beyond Ontario, given that is one of the possible responses. Thanks for skewing the responses to my detriment.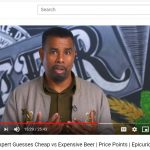 I like this video of Garrett Oliver plunked on YouTube by Epicurious magazine. He demonstrates a wonderful ease with explaining beer. It is unfortunately presented in a way that suggests it's macro v. micro. I'd prefer some crap craft bashing. He also talks about relative value – but presents some some odd arguments. No, a craft IPA does not cost $4 rather than $1 because of the hops. And a good German malty beer is not double the price of a poor one due to the cost of the malt. There is much more to price and, yes,  not all as easy to explain – but his general argument that good costs more is there and welcomingly well presented. 
Jeff has unpacked how Beervana pays its way:
A little less than two years ago, I began running an experiment here when I took on Guinness as a sponsor. In July, we signed a contract for a third year of sponsorship, which will run through June 2019. This is a slightly different model than the subscriptions Josh describes, but the upshot is the same: the idea was to find a partner who saw value in the site and wanted to reach my very specific, engaged readers.
This is good. Open and honest. And we few remaining actual bloggers need to support each other, knowing how hard it is to make a buck writing one of these things… or just finding the time or accessing the resources you want for the research you want to do. Not unrelated: self-inflicted expertise extrapolation? Heavens to Betsy! Let the man think out loud.
Speaking of supporting our fellow bloggers, Robin ran into Canada's newest jam blogger in the market the other day. He's very keen on new content creation. 
The British Guild of Beer Writers has published a list of the best beer books of 2018. The trouble is it seems to be a list of all the beer books published by guild members from 2018. There's twenty-six books listed, some of which were published years ago – even under other titles. Decisive selection. The best book of the year is not included.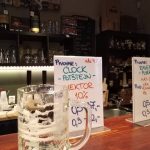 Conversely, Max in a single not necessarily beautiful image posted on Facebook has told a thousand words… and then added a few words: "…'twas good. 'twas very good, and the second one too. Pivovar Clock Hector at Pivni Zastavka…" The only thing that defies scientific knowledge is how the glass shows multiple lacy rings, each matching a gulp while we all expect that he downed it in one go.
It is an important observation on how useless the US Brewers Association's definition of "craft brewer" has gotten that it acts as filler for the weekly update only after I have hit 750 words. Jeff notes how it is now entirely related to accommodating one non-craft brewer. Wag that I am, I retorted *** that it no longer requires a brewer to actually brew very much beer.  There. That's all it means. 
Related: an honest man in Trumps new America or the root of the problem?
This week, Merryn (i) learned not to want to be a medieval farmer and (ii) linked to a 2013 web-based data presentation about Viking brew houses which I am linking to here for future Newfoundland reference but it's totally today…  so there you go.
Finally, how about some law? This speaks nothing to the people or the business involved but I have no idea how I might determining whether to consider sending string-free cash to a cause like this one:
We know that the decision to invest your hard-earned money is not to be taken lightly, no matter how big or small your contribution may be. We would gratefully use the funds to assist with legal fees, as we continue to protect ourselves, our name, our businesses, and our team. We are looking for and in need of building a legal fund that will provide for our past, present and future legal demands, as a rapidly growing grassroots craft beer franchise system. 
The legal issue appears to be mainly legal dispute with their franchiees. I have no idea who is right and who is wrong. Craft makes it extra blurry. Having advised upon franchise agreements in my past private practice, I would not want to suggest where the right sits. Often in the middle.
Relatedly perhaps, Lew asked about unionization and proper wages for craft brewery workers and got an ear full on Facebook.
Well, on that cheery legal note, I will leave you for now with Jay Brooks description of how "T'was The Night Before Christmas" is really about beer. And, please dip into the archives to remind yourselves of Christmas Photo Contests past. Ah, beer blogging. Remember how fun that was? Until then, Boak and Bailey have more news on Saturday and, the Great Old Elf himself, Stan has more news on Christmas Eve. Ho. Ho. Ho. 
*where is the basic HMTL editor I knew and loved? I can't even indent this footnote or make the asterisk a larger font than the text. What sort of animals are running WordPress??? Hmm…
**There. Killed if all by installing a "classic editor" widget.
***Yes, retorted.