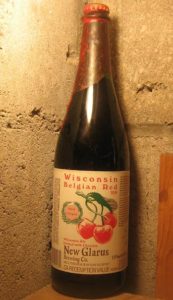 Is that not the most repetitive title to a post yet? I wonder if New Glarus is in New Glarus County…or maybe Wisconsin county. Anyway, this is simply an incredible beer. Stan and Daria brought it to us when they visited this summer. Once upon a time, I had a small old farmhouse and it was near a small cottage owned by another branch of the family. We had pin cherries, black cherries and choke (or is it choak?) cherries as well as juneberries and other bush fruit we planted over the years. Small bush fruit in the cherry family is the best – all relating to but not being defined by that toothpaste, cough drop or pie filling flavour that gets associated with the word "cherry" these days. This beer reminds me of the complexity of those natural flavours.
The beer is pie in a glass. Insanely fresh tart cherry backed by a cream of wheat richness. It pours cloudy reddish amber, like lightly oxidized fruit. Snow white froth and foam on top. Bright and cheery from the effervescent carbonation. Meaty fruit in the mouth with tangy acidity and that aroma which evokes the whole of the plant, the twigginess, the almondy scent you get when you peel new bark. It's almost ammonia sharp but not. Is that brett? It is like with Orval, that dry lavender aspect. Is this a creation of hopping that moves the cherry from meaty and sweet to something more like scent of an orchard? Dandy. Not quite sour but in the neighbourhood. Makes me want to plan a trip to the other end of the Great Lakes.
I threw a couple of these ounces into twice as much a Burton Bridge porter just to see. Good but something of a waste. BAers love it. Is this the best fruit beer ever?