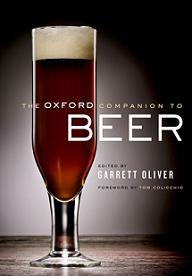 So, the forecast for the last four weeks over at the wiki that was set out in my Halloween post "And Quiet Flows the OCBeerCommentary Wiki" came to pass. This is going to be a longish process. But it advances. I just finished loading the Index of Articles by Author to the point Stan managed to get to, which was mid-"J". I have gotten it to "L" and hope to fit in the rest before Christmas so we can cross reference commentary to the indexing. Oh, think of the data mining possibilities. Any volunteers want to load a letter or two? If you have email and a copy of the OCB, please let me know.
The biggest news related to The Oxford Companion to Beer is that it is hitting the top 50 on Amazon.com. It is sitting at #44 right now but has been as high as #15 that I have seen. This is good for beer. Don't be confused like the deeply afflicted Protz. The wiki displays the parasitic nature of the beer nerd in nicest sort way. The OCB is the Wildebeest while we are the Oxpecker. And it's only $26 bucks right now. Buy it. Right now.
And what have we found? Well, a month ago, Clay Risen in The Atlantic saw only 40 entries and considered the commentary mainly about interpretation. While he was fairly incorrect on the last point, we are now up to 62 entries and many have multiple comments and corrections. Just look at the entries for "ale", "ale house" and "ale pole." More interesting to me, however, is that some of the entries are mainly elaborations of the topic, building upon what is there. So, we can now see that Canada's brewing experience was years and perhaps decades older. We can see that the US state of New York had a rich post-Prohibition hop growing experience. Neato.
62 entries? That's 5.63% of the book. By Christmas, maybe it's 9% or 12%. Who knows? What is good is how information gets fine tuned through the wiki – not the scorecard. Join up. If you have a copy now or get one for Christmas, let me know if you'd like to add any thoughts by emailing me at beerblog@gmail.com.