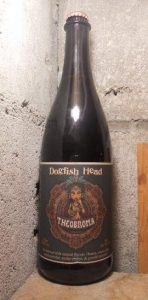 Mark Dredge has a piece in this morning's Guardian out of the UK entitled "The Beer of Yesteryear" which scans the range of recent brewing efforts to recreate beers older than, say, 500 years ago. These are beers which use ingredients available to former culture including Theorbrama by Dogfish Head. I had one on hand and thought I would see if it has any appeal. Mark tells me:
Theobroma, part of Dogfish's Ancient Ale series, is based on "chemical analysis of pottery fragments found in Honduras which revealed the earliest known alcoholic chocolate drink used by early civilizations to toast special occasions." It contains Aztec cocoa powder and cocoa nibs, honey, chillies and annatto.
The bottle adds that it is based on chemical residual evidence from before 1100 BC with additives from later Mayan and Aztec drinks. So, seeing as the Aztecs come from about 1300 to 1600 AD, it is sort of a made up mish mash. Its as much a traditional drink as one from, say, that one Eurotrash era that stretched from the Dark Ages of around 800 AD to the world of George Jetson in the year 2537 AD. That would be an excellent era… right?
Well, as a beer it is a bit of a disappointment as well. Booze overwhelms pale malt which is undercut by the exotic herbs all of which has an oddly "beechwood aged" tone to it. I get the cocoa. I get the honey. But I don't care all that much. It leaves me disappointed like that imperial pilsner experiment of Dogfish Head's in 2006. Only moderate respect from the BAers. A bit of a boring beer that may be the result of a fantastically interesting bit of archeological work. Who knows? Maybe the sense of taste of those Central American practitioners of human sacrifice wasn't as haute as one might have expected. Or maybe it paired well.