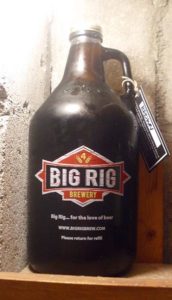 A mad half week on the road. Two business meetings, a ball game plus a 97th birthday party in the family saw me driving from Eganville to Ottawa to Toronto to Owen Sound and back. Good thing I picked up a growler of this nut brown ale as I was passing from highway 417 to the 416. Big Rig sits in a small mall in Ottawa's east end next to the big Ikea and serves both local passing car traffic as well as nearby residential community. The on-site restaurant was packed when I stopped in with folk catching the NHL playoff game happening in another part of town that evening.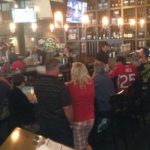 After a morning of gardening and, err, home organization this hits the spot. The beer pours an attractive reddish mahogany with a fine creamy off white head. Nuts and dried fruit on the nose. In the mouth, there is a good bracing jag of twiggy hopping paired with a minority vote from something adding some citrus rind. As the beer warms, the malts open up with flavours of cola, dark sugars, dates and other brown things. The level of hopping might have attracted an earlier craft era designation as a Texas brown ale but that's a label that seems to have faded away, a style that wasn't then might have been but now may not be anymore. A black tea dry finish highlights the hazelnut notes and grainy texture.
A reasonably drinkable 5.2%, not enough BAer reviews to warrant an average. I like.