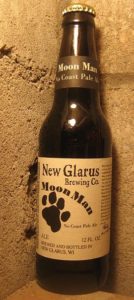 It's Memorial Day weekend in the USA and I am celebrating. Mainly because I've been sick since the middle of last weekend's Victoria Day long weekend up here. Being in a border town it's not a great stretch even if I can't get over to witness one of the glories of the western world, a small town US parade. Eat a hot dog this weekend, woudja?
This beer was launched just a few weeks ago and arrived in a mixed 12 pack care of my Wisconsin mule – oddly by way of a village in north western Quebec. It gives off the aroma of peaches and apricots at an alarming level. It pours light burnished gold with an actively sustain pure white foam. On the swallow, theres a wall of pale malt sweet graininess with black tea hop with a weedy floral overlay. The finish is a bit tea, a bit bitter green with a squirt of juicy malt right at then end. Yum.
Structurally, it's quite singular – a overly perfumed kolsch? And at 5% its a reasonably sessionable beer but I bet it could be rolled back to 4.4% with reasonable integrity. BAers got the love thang.