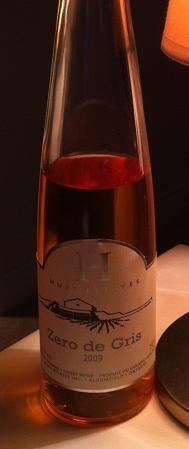 I was going to post about tea. I have been drinking a lot of tea lately. Good tea. Good tea is one of the least expensive good things going. Even at $35, per portion so might be a sweet wine like this bottle I picked up last summer at the winery on one of our ice cream, beach and cheese curd jaunts into Prince Edward County. A half bottle like this can easily be shared at dessert or after with six or eight. And you might open one once every couple of months, right? So, OK, not quite great tea value but often a well placed addition to the end of a holiday meal like the one shared today.
Zero de Gris is made with all Frontenac Gris picked late but short of forming noble rot or freezing. As flavour packed as I would have hoped, there's honey and apricots on the nose. You can smell it with the glass sitting there on the side table. There's more in there as well. Fresh lemon, white grapefruit, honey and something thicker, earthy – maybe melon or beeswax? A small sip gives you tangerine, lemon juice, honey in a sharp acidity framing a sweet hefty mouth feel. The finish is light and grapefruit clean with a lasting nod to that beeswax note.
We had this with a lemon curd cream cake. It would likely go well with just spoonfuls of thick cream and a couple dozen butter cookies if that were your thing, too. Light at 9.5% and enough sugar that the bottle's drip leaves the neck sticky. Probably infanticide at three and a half years old. An award winner for Canadian late harvest wines in 2011.