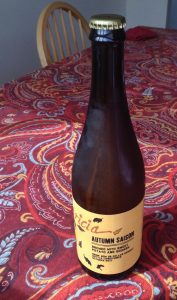 A beer with subtitles: autumn saison, brewed with sweet potato and squash. I bought two bottles of this a few Fridays ago from the retail counter at Stone City, a short march up the hill from work. The first bottle gave me a bit of pause. This was an example of something. An excellent beer thoughtfully made that I liked but, still, one that I was not sure about.
And my uncertainty was fuelled by my own uncertainty as to why I am uncertain. So I am glad I bought two. This is a fabulous beer. The base saison is white peppered and dry. The gourd and rhizome quite restrained. On this warm Sunday afternoon in the middle of this strangely warm autumn, it tastes like the rich earthy air flowing in through the wide open windows. It is a clever timely release with adjuncts which are right up my alley. I grow squash and we even have use the nickname Swee Apado around the house, given we eat so much of it. So what is wrong?
Clouded vintage gold ale under a lacing fine white head. On the nose, it is classic saison in the Dupont style. Not the DuPont one, if you know what I mean. Backing it up is the dirt-tang of sweet potato. In the mouth, immediately dry and twiggy herbal with an very pronounced opening of flavours in the swallow followed by a long long hot herbal finish that resolves into the squash. The vegetable elements hide, show, hide then show.
I worry that my problem is this beer is cleverer than I am. Rustic and elegant. I can personally only claim the first. In my mind, I am searching for a place to put the beer. Pigeon hole it. I want to have it with spurting hot venison sausages. In a coconut curry. Or pork shoulder roasted on a bed of parsnips. I want a balancing fattiness. But is that fair to the beer in itself? Yeats spoke about loving something, someone for herself alone.  I have never claimed to be all that nuanced in my tastes but this may well be suggesting, strongly, that I revisit my limitations. I don't like to not get the point of something this good.
So… I consulted Keats and his poem Ode to Autumn. The subtitle asked me to, no? And this explains everything. This is not the autumn of mists and mellow fruitfulness in the glass. That's the autumn of back to school. A month ago. This beer speaks to a later point – the brittle leaf pile, warm welcome corduroys. Early sunsets and chilly walks back up Cobourg Road to get to college, to happy hour. Soccer practice with freezing knees. Remembrance Day and singing "Abide with Me" down at the Grand Parade.
We are not there yet. Here the leaves are still on the tree and I am picking cherry tomatoes off the vine a month after the equinox. I mowed today. Soon it will be six months to May. Four to March. This will be a short winter if autumn still is a ways off yet.