Andy Crouch captured the mood with this tweet on Tuesday: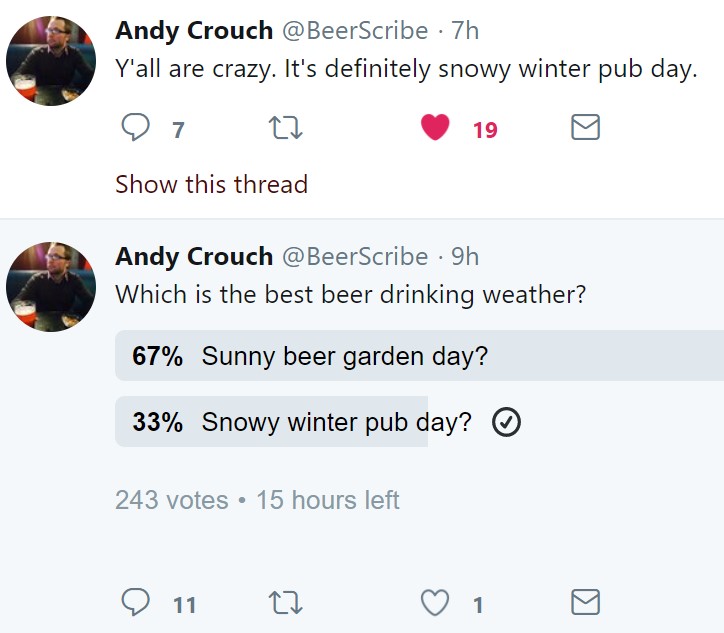 We are tired. We are tired of slipping. Of sliding. We are tired of corduroy. [Except me. I'm not hating on the cords – just trying to fit in here – gimme a break.] Otherwise, it's been a really quite week. Not one brewery has done anything stupid since last Thursday.  Well, Stone seems to be having shelf space quality control issues in Europe but, well, that's par for the course for big international craft. And St. Patrick's Day is coming up on the weekend but that will be ruined but 827 beer writers working for exposure and samples lording over the fun of drinking green bulk lager… but that's for next week.
Deeply into the now, Mr. B has a new book coming out, Will Travel For Beer. Like any numbers book there is a hyper-inflationary aspect to the idea of going on 101 vacations about beer but I am sure there will be more than a few ideas worth planning one or two trips around.
It's not the one beer a day I couldn't manage but who can stop at the third chip?
This is an odd story. Apparently MillerCoors in the US has created a new demographic category for 21 to 24 year olds and is intent in trapping them for life in a haze of weird macro-made beer like things:
The purpose is to sell more beer, which has been losing business to wine and hard liquor for a decade. MillerCoors, the U.S. division of Molson Coors Brewing Co., is gearing its marketing to 21- to 24-year-olds, a slice of the population the company characterizes as "curious," "pragmatic" and still virginal when it comes to drinking beer… MillerCoors says there are important differences between millennials and the new generation the beer maker created but hasn't named.
Apparently, the answer for these poor fools is a fluid called Two Hats described as "a light beer imbued with fruit flavours." Which (i) we have seen in one form or another before such as the cited Bud Light Lime-A-Rita yet (ii) still sounds uniquely horrible. Pity the short term career path of the team that came up with this one.
Did I ever mention I really can't get too excited about the unhappiness of the good monks who otherwise play quite happily in the commercial marketplace? Think of the extra good work that could be done if one of the recipes were given to big beer to milk  for all it's worth with all licensing residuals going to good causes. No, reselling is fine by me. If I can buy Harris Tweed, an actual craft product, from some one on eBay – why not beer? I mean, who would deny the joy of the best beer thing of the week – also found on eBay?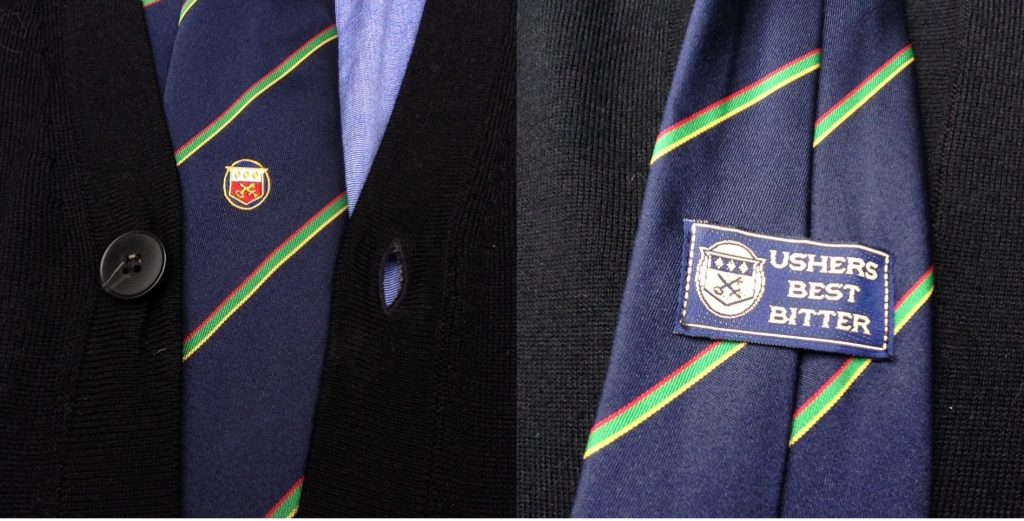 Boom! Now that we have dealt with matter haberdasherrific, be careful. This post from B+B may find you wanting to stroke your screen. Lovely images of malt being made 50 years or so ago.
If we are honest, GBH is now sort of on a different planet, no?
Finally, as Jeff notes, the US Brewer's Association has put out its annual biggest 50 craft brewery and biggest 50 brewery list… except it's not the biggest 50 breweries but the biggest 50 brewing companies. Which is odd for an organization supposedly celebrating small. EcoBart explained that the lay of the corporate landscape no longer allows for simply listing breweries – but then offered a tweek that might see number of brewing facilities listed under each FrankenKraftenCorp. Which gets to be confusing. TBN certainly was confused. I've plunked the entire list into this post down there at the bottom for your review. Look at it. Look!! The inclusion of Duvel Moorgat certainly sticks out. Andy hailed it all as the revenge of the East. Me, I applaud Bell's for sticking with "Inc." while all the world rushed to "Co." Two years ago or so, the annual list was a helpful tool in following the breweries which had sold out. We don't talk of selling out anymore. It is all too confusing. Which is another reason to buy from your local actual small brewery at the taproom where you can talk with the owner and the brewer.
Remember: Boak and Bailey Saturday, Stan on Monday.