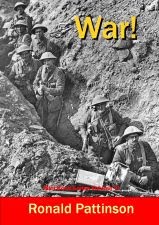 I got a great gift in the mail today. Copy 8 of 10 of Ron Pattinson's new book, WAR! He wrote about the book's release this very morning from his home in The Netherlands and by suppertime a copy was in my mailbox here in Canada. Compiling his studies to date on the years of World War I and World War II, it is a great example of the work he is doing to bringing actual detailed primary research to the question of the history of beer.
One wishes all beer writers were so concerned with the facts as we witnessed today from Roger Protz who went all freaky handbags over BrewDog's new and insanely strong beer. He's received a number of head shaking responses, deservedly so given his use of language like "over-inflated egos and naked ambition" and "the wild buckeroos" and "what were you smoking last night, chaps?" and "this bunch of ego-maniacs" and "anxious to give beer a bad name." The oddest thing is that he goes off on his own ice flow all the while misunderstanding the technical process used for actually making the beer, baldly claiming it had wine yeast in it… not that wine yeast would get you a 32% beer. One wonders what Protz was thinking or, in fact, had been smoking himself when he wrote such a blurt. He has certainly gone a long way to discredit his own opinions on experimental beer generally. For a more measured response, you may want to read Pete Brown's post on the new and insanely strong beer from last Thursday…you know, when it was news.
Now with the Xmas 2009 Beer Blog Yuletide Photo Contest Extravaganza. First, a couple of solo entries from Canada.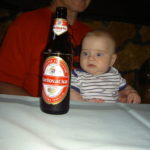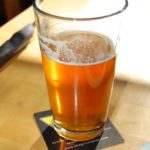 Chris Berry of Kanata, Ontario sent this one picture to the right which sorta looks normal… until you have a good look at the baby's face. Frank MacDonald of Torbay Newfoundland kept the kids out of the photo to the left. It was taken at the Grizzly Paw Brewpub in Canmore Alberta.
Next, Jeff Alworth of Portland, Oregon has sent in some photos from the scene there. I have no idea how he got to put in 8 entries but never having been to Oregon I can't be sure this is not some sort of cultural thing, some sort of secret message to us all. Maybe he can't count. Better not mess with the photo set just in case: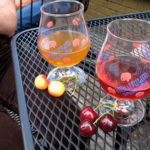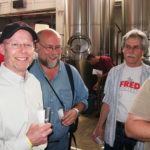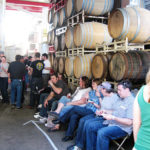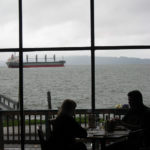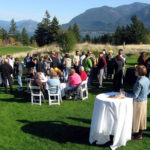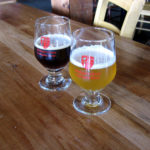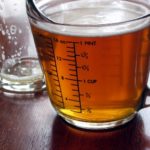 Finally Tim Connelly of Cambridge Massachusetts sent in these pictures which are entitled "Inside Cantillon," "In a Galway pub," "Outside of a Galway pub," "The Franciscan Well Brewery Pub, Cork' and "Brooklyn Brewery":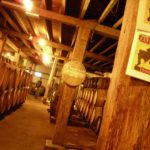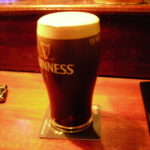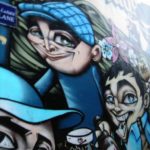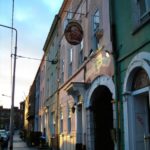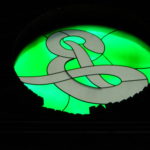 Four more great entries. I better starting beating the bush for more prizes. Here I go. Off to email brewers until all I have are bloody stumps for hands. Why? I don't do it for you. I do it for Santa.