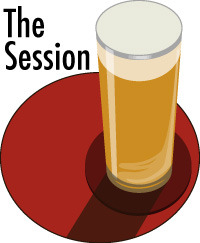 One of my favourite things about The Session is a good crisis edition of… The Session.
Let's be honest. The ball has been dropped about three times in the decade and more of this monthly beer blogging session on a common topic leaving thousands and thousands world wide distraught at the idea that there would not be any single thing to read on the topic of beer… well, posted by a beer blogger… in unison with other beer bloggers… you remember beer bloggers?
Fortunately, the world's first beer blogger noticed and this beer blogger, the world's second, is not going to let down the side. Jay whipped together a splendid topic entitled "New Session: Three Things In 2018":
For our first question of the new year, what one word, or phrase, do you think should be used to describe beer that you'd like to drink?
For our second question of the new year, what two breweries do you think are very underrated? 
For our third question of the new year, name three kinds of beer you'd like to see more of. 
Hmm. Let's see.  Well, you can tell it is a crisis topic as the three questions require five answers. What are my answers?
Word? Clear. It's very fashionable to suggest no one has a right to note that a bad fad is a bad fad but 96% of all the nouveau cloudy beer is, as one would expect, bad cloudy beer. It takes a semi-pro PR specialist to suggest otherwise but, really, if you stuck to clearer beer would the world be worse off? No.
Under rated? In the 10,000 brewery universe that is an impossible question as they are not subject to any rating system which reflects their actual quality. No one knows them all. So, classes might be the next thing I can rely upon. Regionally, I would suggest Quebec breweries are under rated. In North America, La Belle Province is an enclave of another language, another culture. The beers reflect that culture. And it's under explored. A second class? Corn based craft beer. Really? Grow up.
Three kinds I want to see more of? I like the word "kind" when it refers to a category, a class. A kind of beer is better when it gives comfort. So – maybe mild, dubbel and… 1700s porter. Made with diastatic malted Battledore barley. Yum.
Crisis averted. Again.