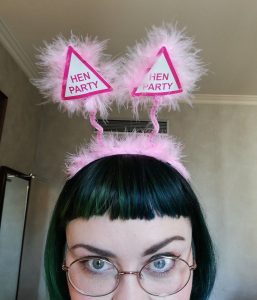 Well, here we are. March. -15C this morning with the wind chill but at least it's March. Things could be worse, I suppose. I could find myself at what the British call a hen party like we see in the photo of the week captured by temporarily angry Katie apparently practicing her mind control in the attached photo… except I'm not in Britain so she can't reach me… and… I'd be at a Rooster Do or whatever they call it to make sure we are not getting all inter-species. The rural Ontario stag and doe makes so much more sense. But I am struck how fabulous Katie is… for some reason… give her money… give her power.
We continue with a rather odd tale out of Syracuse NY where we find a craft beer bar shut down due to a rather firm boycott:
Talisman struggled to attract business after its August opening due, at least in part, to a boycott effort from former J.Ryan's regulars and bartenders. They blamed Carvotta for J.Ryan's sudden closure and the firing of bartenders and other staff. Former J.Ryan's fans also posted false negative reviews on the Talsiman Facebook page, attempting to make it difficult for the new bar to get off the ground. They derided the new bar as the "Taliban Tap Room."
Yikes. Staying in upstate New York, Craig has proved again how flammable he is… and the answer is very… because his FB posts and new findings relate to Albany Ale are on… wait for it… fire. This clickable one to the right from 1832 is my current favourite notice related to Albany ale because it's from a notice for immigrants to a frontier village in what is now suburb or city to the west end of Lake Ontario, then in Upper Canada, seeking specifically a person who is a tanner, currier and brewer of Albany Ale. Fabulous.
Back in Britain, there was another sort of unhappiness with CAMRA facing apparent or at least alleged revolt from within based on generational shift in appropriate standards:
A war is brewing among members of a real ale campaign group after younger reformers accused the 'sexist' old guard of treating the organisation like a 'pensioners drinking club'.  The feud has been made public after seven reformers – all in their early forties or younger – of Campaign for Real Ale wrote a scathing letter claiming the organisation was 'riddled with allegations of sexism and cronyism'.  In the letter published in this month's newsletter, they wrote: 'We need to see a campaign thinking more seriously about the next generation of pubgoers — a campaign whose public image is not riddled with accusations of sexism…'
Good. Very good. But how many old guard members are there really out there? You'd know better than me. ATJ knows more and he wrote an article for The Telegraph. Here's a handy Twitter search for "CAMRA sexism" to measure the temper of today.
Crystal takes one of more obligatory sort for the team.
Jordan on why his beer appreciation college course is the best beer appreciation college course:
Luck doesn't have a whole lot to do with it. I basically started from the proposition that I've got to be more useful for less money than both established programs. Cicerone can't customize their content. Prud'homme can't customize their content. I can tell the students what happened last week and change out recipes between semesters. 
Martyn has written a cheery attack on the shadowy Portman Group, all over its stance on strong ale:
Among the beers that break the new Portman Group guidelines, and therefore face a potential ban, by being stronger than eight per cent and sold in 75cl bottles, are beautiful brews from the US, such as Brooklyn Brewery Black Ops, or Local 2, Rogue's XS Old Crustacean barley wine and Lost Abbey's 10 Commandments; a rake of great beers from Italian craft brewers, who go for 75cl bottles in a big way – pun semi-intended – including the wonderful Xyauyù Barrel from the Italian brewer Baladin; and a fair number of beers from the Netherlands and Belgium… and Dupont Avec Les Bons Voeux.
The bastards. The only thing that lets me go on is knowing that there's Avec Les Bons Voeux out there. Matt took an interesting take on the subject via tweetfest:
…there are thousands of videos of people chugging cans of DIPA on Facebook and Instagram like it's a game. If we want to encourage responsible drinking of a premium product, perhaps we start by addressing the reality of the situation.
In very happy news… Go Ray… go Ray… go go go Ray!!!
More great news, this out of CBN and the east coast Canadian fabrication scene:
Diversified Metal Engineering (DME) in Charlottetown ceased operations and went into receivership last November along with its sibling business, Newlands Systems (NSI) in Abbotsford, BC. The company and brands have been bought by CIMC Enric Tank & Process B.V. (CETP) of the Netherlands, and the Charlottetown facility has been reopened under the name DME Process Systems. Previous DME staff members have returned to work, and the plant will continue to manufacture DME and NSI equipment, as well as provide parts and technical support to previous DME and NSI customers.
There's background on the DME story in former weekly news.
I had no idea that there was a German tradition of drinking beer and throwing political insults on Ash Wednesday but state radio folk Deutche Welle says there is:
…every Ash Wednesday the gloves come off, and political leaders are allowed to push the rhetoric to the limits of fairness — and sometimes beyond. That's been the case this year, too, in the centenary edition of the ritual. Here are some best zingers from the 2019 edition of the political roast day Germans call "political Ash Wednesday."
The zingers include such winners as "Good PR isn't going to lift one single child out of poverty" and, of a leader of another political stripe "In her heart of hearts, she's a Social Democrat." Wow.  Consider my knee well and truly slapped.
That's it for this week. A little thin… unlike me in either respect. I got through a kid's 19th birthday and the intro to drinking legally as well as an radical expansion of the life at work and survived. By next week, the clocks will have changed and the snow will be muchly melted. Check out Boak and Bailey on Saturday and Stan on Monday as well as the slowly simmering #MoneyMakerMarch that everyone… well, Stan… is talking about.