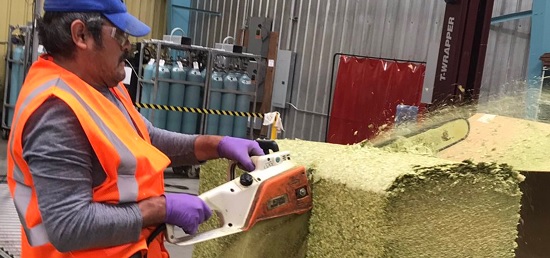 It's World Series time. When I started putting these notes together, the first game hadn't been played. By the time it is posted, two games will be in the books. [Ed.: Oh, the Sox won game one!] I hope the idle Stan has time to catch a game or two… not a certainty given his global gallivanting seems to be continuing. This week, he sent us all this wonderful holiday post card of a photo (above) from Crosby Hops of Oregon. Respect beer. Keep the chain oiled, but respect beer.
"Wine drinkers unfairly punished by UK taxes" says wine writer Jancis Robinson responding to a discussion on the implications of Brexit. Has anyone been writing about the implications to the UK beer trade? My hope is that a currency crash and tariff increases might bring on a golden age for Fuggles. There is this point, however:
The Alcohol Beverage Federation of Ireland (ABFI) has warned that exiting the EU without finalising an Irish border solution is expected to cost €364m worth of drinks trade between Ireland and the UK. The outcome would restrict an estimated 23,000 cross-border truck movements and attract additional new tariffs on supply chains.
To be fair, it's not like the €364m worth of drinks will not be bought and drunk. It will just be domestic bevvies from each side of the border. Does Guinness rebuild its UK operations? Probably. [Ed.: Wait – that's not what a good blogger does.] DEFINITELY! Diageo to return to the United Kingdom by Q3 2019.  You heard it here first.
Speaking of wine, look at the size of those servings! Wee lassie sniff-a-wine is pre-gaming for the twentieth century, I'd say.
Are we actually concerned that there are too many references to cannabis in craft beer branding? I hadn't really noticed it but now that weed is legalized in Canada, I have not been too sharp on the ball. It's all like a hot box here, the entire country. Have you ever seen a moose in the woods smile dreamily? You can now.
It's been an interesting week for comments about writing about beer for magazine money. Boak and Bailey in their monthly newsletter (which you really should sign up for) shared that they are done with it for the foreseeable for  very reasonable reasons including frustrations of pitching pointlessly, frustrations with not getting paid, and frustrations when articles are not published. I've avoided the crutch of pop beer mag writing for the most part but was quite disheartened when MASH mag went under without publishing my third article on early Canadian brewing… as in early 1600s brewing. BB's comment – "Can you make it more appealing to Americans?" has worn us down rather – is telling, too. A variant on the too often seen editorial theme of dumbing down. The wonderful @Shineybiscuit shared another curse of the gig:*
Months of pitching a national about the great pubs in my area has resulted in a TV food critic getting to write the piece instead. Love my job.
Yikes! I hope Boak and Bailey still spare a thought for Original Gravity which, while it tends to work "the romance of beer that everyone feels on their fourth pint" as editorial stance, still offers great value for money. And it's made it to the 20th issue which is worth celebrating in itself.** Very few do, usually with good reason. You can read it here for free.
A fabulous bio of Carol Stoudt got a Lew link and I link on. I love this paragraph:
As the craft beer industry blossomed around her, Carol smelled the roses — and detected the need "to deepen the trenches" in her home state, she says. "As more local breweries pop up, there's no need for me to be in those markets." She pulled back distribution around 2015 to bring her beer closer to home. "I never wanted a factory," she says. "I like small. It's kind of my philosophy."
That's captures what I have been trying to say for about a decade. If you can't say "I never wanted a factory", well, I'm not all that interested in what you are brewing. "Factory-made beer" is a wonderful slag against all pretenders of all label levels.
Jordan posted an interesting essay on his experiences returning to England after five year, following up on his piece [… which I have linked to somewhere around here…] what was it called… "Belgium Sucks More Than They Tell You"?… no, couldn't have been that. Anyway, I liked this point in particular:
Here are some changes that happened when I was away: St. Austell Proper Job in cans. Apparently this is a 2018 development and six packs are available through TESCO. You know how the LCBO changed the market in Ontario by demanding 473ml cans? Well, this is a similar development and something of a standardizing influence between young startups and larger regional legacy brewers. The retailer isn't quite king, but the 500ml bottles do look a little dated and the deep bottle discounts for multiple purchases do influence the consumer. Cans at least move volume without sacrificing the perception of value.
What is not often noted in the hack writing about "crushable" and the art on cans is their actual benefit as a flexible friend: lower investment, more control, and still that sense of value. Jordan's other comment about Beavertown Gamma Ray – "there are a couple of dozen better American Pale Ales brewed in Ontario" – was also welcome. It is not, after all, about the quality of the beer, just the quality of the blessed "experience"… which a pop beer mag can tell you all about in a sentence and a half at the rate of about 17 cents a word.
Don C of CNY has penned an interesting article on the return of the (tiny) NY Prohibition Party:
The state's "pro-alcohol policies are making New York sicker, poorer, and more highly taxed," the Prohibition Party leaders  said. "Those in state government should come to their senses and end state support for the alcohol industry, or the people should vote to replace them with public servants who will."
"Should" is the dumbest word in the language. Makes people think what isn't is what ought to be. No "should" with Pete as he continues his considerations on cask in the UK again and in particular he discusses price. Let me ruin his ending for you:
Price is a thorny topic to get to the bottom of. As a cash-strapped drinker, of course I don't want the price of beer to go up. But as an adviser to brewers and pubs, I'd say there's a lot more potential margin in cask if you want it – and if the quality is good. 
The important thing to note is that a lower price is what is being offered and what is being paid. The market is what the market says it is. Which means if folk are happy with lower-price lower-quality cask, well, that might well be the product they want. Hard to capture that as a PR consultancy message*** but it might well be why what is… is what is.
Well, that is it for me for this week. The lettuce patch has not yet suffered a killing frost even if the last green tomatoes have been brought in to ripen on the window sill. The furnace doesn't run all night but it sure gets turned on before I make the coffee. Winter is coming – but it ain't here yet. Weekend readings? Day dreaming again, wishing that Saturday was as fun as a Thursday? Fret not. Find your next beer news fix at Boak and Bailey.
*Then removed with well-worthy self-asserted defiance! Fight!!!
**Not the Canadian… err… Toronto edition of OG which seems to have gotten stuck at issue #1.
***Though I am quite fond of my new open source media campaign on the topic "Cask: Reliably Highly Unreliable at a Reliable Low Price!"