Picked this up at the winery a few weeks before Christmas on a cloudy Monday off work. The Riesling and Cab Franc I bought the same day are gone already. The Devil's Wishbone winery is a thirty minute drive west followed by a wait for the ferry followed by a five minute ferry and another five minute drive up the hill and back to the east at Lake on the Mountain just past the park next door in Prince Edward County, Ontario.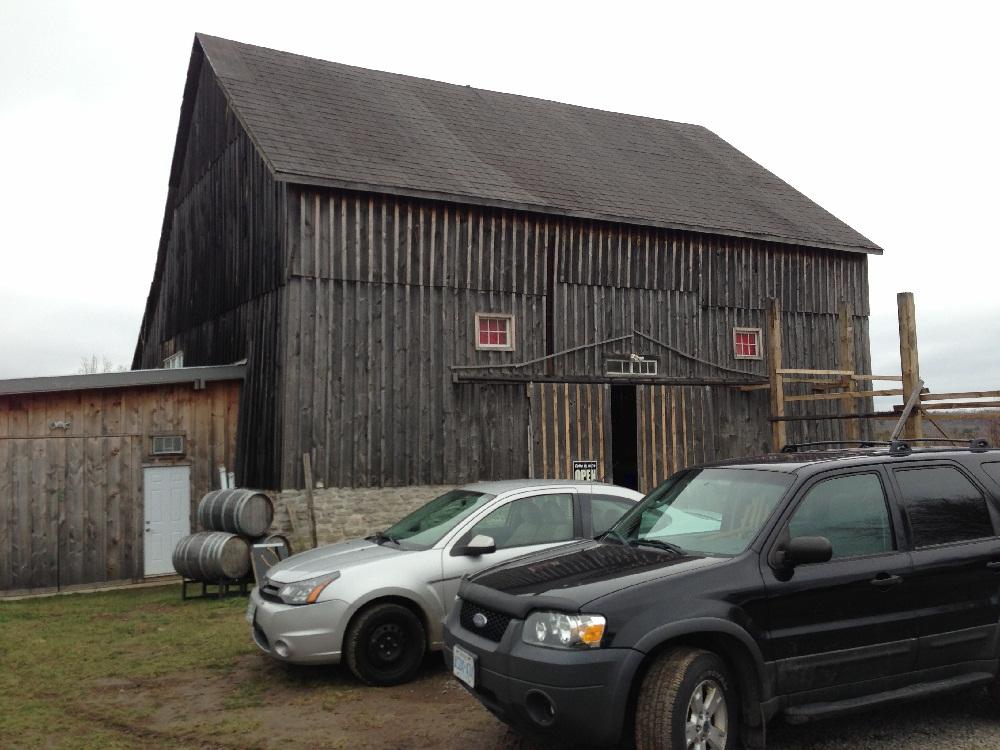 As I mentioned recently, I have started a category for Prince Edward County wine because, well, it is tasty and nearby. While we have three actual production breweries, excepting Ottawa, in eastern Ontario there are over thirty wineries in PEC just over that wee ferry. Once I was up the hill and past the park, the sign for the winery soon came into view. Up a lane and past house, there was a parking lot by the barn with rows of grapes stretching out to the south.
Inside the barn, there's a retail stop you duck under a beam to enter and a very helpful staff person. I picked this wine out for maybe 24 or 26 bucks. I picked this one just out of the sheer curiosity of finding the grape growing so close to my house. I was smart to do so even if opening it now is likely infanticide. After writing about beer so long what do I say? That it suffers from incredibly low levels of carbonation or that it's the colour of kriek? It's actually light for what I am used to in a Cab Sauv, not like the deep purple reds of a mass Aussie or Chilean plonk made with the grape after beaten down in the heat of the sun down under. I am going to say cherry juice red. Scent? Maybe cherry, raspberry and a little cigar or rather a bit of raspberry jam spread on on leather baseball gloves. More of the same in my mouth with maybe rosemary, tangerine and cedar… which may be expected given the local forest growth with bracing tannic. Tart berry woodsy finish.
Both Hugh Johnson and Oz Clarke mention PEC in their 2013 guides as a newer upcoming wine zone. But not the Cabernet Sauvignon. And Devil's Wishbone is too new for the latest edition of Crush on Niagara, the surely needing renaming guide to Ontario wines by Andrew Brooks from 2009. But it's handy to my place and on the way.