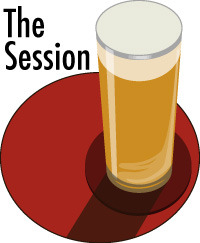 I have been away.* Again, as it turns out. In the last weeks of winter, I drove home alone to Nova Scotia for the funeral of a close pal. I drove the sixteen hours there and sixteen back to think about what he meant to me as I headed east and to decompress on the return. It was a heavy time but the fabulous views of the lower St Lawrence River at Kamouraska and passing by rural high schools where he and I played on the sports fields put things in their place. But it was heavy.
So, last weekend I did it again. College reunion. And a couple of pals getting married. The same views got me there and back. The same round domed worn volcano cores pretending to be islands and near shore hills near the corner, the point where the drive north up through northern New Brunswick and across Gaspe becomes the drive southwest from the mouth to the source of the river that made Canada. The sun was out for long stretches. This time the stereo wasn't as loud. I didn't need the Foo Fighters' anger as much. As Friday morning drizzled, I took time to listen to the old guys at the gas station coffee shop explain how the St.John valley had been in drought, so the rain was good. I even thought on the way home to try out mumbling in half French to the waitress at the Exit 177 chicken BBQ place. 690 AM sports radio taught me about the Montreal Canadiens from Edmundston to Brockville. I drove as you do on long familiar roads, slightly glazed.
When I got to my small university at the sea and checked into the dorm I had lived in 35 years before, there were friends – all in makeup, pretending to be themselves in middle age. Within minutes I had been called old, fat, and an idiot in a bunch of ways by a bunch of pals. I was back home. I jumped in someone's new red SUV and headed to a hotel with a gang to meet up with another gang. We laughed, told each other about our jobs and our hobbies, our kids, our spouses past and present. We talked about our dead friends. Not too much but enough.
One pal walked in the room with a case of Oland Ex, a plain old Nova Scotian pale ale. Undergrad beer made by a regional brewery generations old. Now owned by a company owned by a company but still brewed in town. Hadn't had one in decades. Bread crusty, not quite as light as a macro lager. A little sweet and a jag of rough hop hinting at nothing German, British, Belgian or American. A perfectly fine Maritimer pale ale. I actually said "God, that's good" out loud. A friend asked, given I was a beer nerd, what made it so good. I said the bread crust malt but I meant the company as much as anything.
*This month's edition of The Session is hosted by All the Brews Fit to Pint.