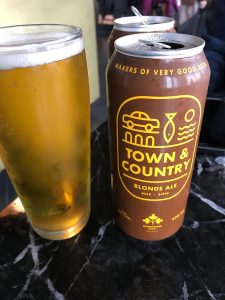 Victoria Day. Is that done only in Canada? Probably. Well, we spent it in Ottawa with the fam and the friends of the fam and it ended up with me paying for it all. Warning to parents of young children: they grow up and they can't afford their own needs. Anyway, we had fun and in two spots, Brothers as well as the hotel bar  I enjoyed the local Dominion City's Town & Country  Blonde Ale. And I can confirm that Irene's is still one of my homes, the honeyed wood even richer 15 years later.
You can now lose hours and hours and hours to the excellent interviews of folk from the recent history of the British brewing trade care of brewingstories.org.uk.
Stan wasn't really contradicting Jeff and Jeff really wasn't saying it as any sort of main point but this is an important observation:
I agree, but would another clause. These brewers do have a vision for what they want to create, but they also have enough of an ego to think that they are making beer that will appeal to an audience broad enough to support a thriving business. They may not want to print money, but many like ending up on something of a stage and more look forward to feeling money in their pockets.
Show me a brewery that is not based on the profit making model and I will show you an impending failure.  Everything else has to be built upon that foundation one way or another if it is going to be sustained: capitalist or socialist, private or public. But pretty much anything can be built upon that model.
Beer in corner stores is coming to my province. I like it.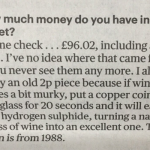 I was really taken by this answer wine writer Oz Clarke gave on why you need to keep an old copper coin in your wallet if you are in the habit of being in places where you are presented with dodgy red wine from time to time.  Now, while I have happily avoided any interest in taking an "off flavours" class (aka misery mongery) I am now interested to see if the copper coin works with any poorly made beers – and apparently I should be focusing on lagers. Any particular candidates for experimentation?
I had no idea there were jazz bagpipers. I approve.
I was quite pleased with the news in this brief article on the beer coming out of Grimbergen Abbey, a brewing monks' collective that sold their branding in the 1950s. Sounds like it's reasonably actually actual:
"We had the books with the old recipes, but nobody could read them," Stautemas said. "It was all in old Latin and old Dutch. So we brought in volunteers. We've spent hours leafing through the books and have discovered ingredient lists for beers brewed in previous centuries, the hops used, the types of barrels and bottles, and even a list of the actual beers produced centuries ago… Stautemas, who lives with 11 other monks at the abbey, said: "What we really learned was that the monks then kept on innovating. They changed their recipe every 10 years."
I like that last bit. Instability is at the heart of brewing. But TBN may well be right: ultimately, it's really just big-brewery PR.
In this week's stolen IP news, an Alberta brewery has been allowed by the trademark holder, the municipal government, to use up the last of its stock labeled "Fort Calgary":
On Wednesday, city officials met with Elite Brewing and Bow River Brewing to discuss the cease-and-desist order over the use of the name, which is trademarked by the city. According to a memo that went to councillors from administration, the city has agreed to allow the brewery to retain the name until the beer is sold out "in the spirit of co-operation." If any beer is left on July 30, when it's projected the beer will be sold out, it must be stripped of the name. 
What is it with craft brewers and purloined intellectual property ? Do small bakeries steal the brand names of others? Do weavers and potters? Nope. This story is a bit different as there seems to have been a discussion and a resulting understanding that then was not fully understood.
Here is an interesting stat:
Prince Edward Islanders spend less money on alcoholic beverages than anyone else in Canada, according to a recent report by Statistics Canada. The report found Islanders spend $614.70 per capita on liquor. The national average was $756.90.
Apparently, folk in Newfoundland and Labrador spend $1,029.20 each a year for the national leadership. But note that this is not average sales per unit, just gross sales. And prices in Newfoundland, I suspect, are way higher per unit. But that's not the interesting thing. The interesting thing was when I lived in PEI from 1998 to 2003 I had pretty much unlimited access through my neighbours to an excellent moonshine vodka called, in its finest form, Augustine. They also still had speakeasies. Everybody and his dog also home brewed. So the stats may mean less than the little they appear to mean.
Neato: six 5,000 year old yeast strains extracted from brewing related pottery in Israel.
Finally, this is weird. Apparently the deadbeat brewery left an unhappy employee in charge of the social media account:
After nearly 30 years Ironworks has come to a shameful end. Yesterday @ 3pm, five armed police officers and a tax enforcement official seized the brewery and changed the locks, and ushered the employees out.
The news is not good: $15,409 in taxes and fees. A pretty modest amount but then add on that no employees have been "paid in the last several months, as well as he stopped paying their payroll taxes over the last year" and you have a sense that there was much going wrong here. H/T Robin.
Well, another week goes by. A bit of a slow one. Such is life. Lessons? Pay your bills. Name your beer a name no one else owns. Simple! Check out Boak and Bailey this Saturday but be warned that Stan on hiatus this Monday. He does that. Hiatuses. Hieronymustic Hiatuses. It'll be OK.