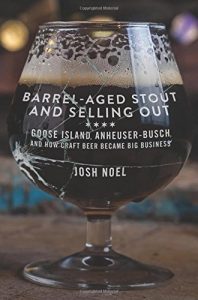 My copy of Barrel-Aged Stout and Selling Out: Goose Island, Anheuser-Busch, and How Craft Beer Became Big Business came in the mail from Amazon this week and I happily started into it while watching preteen softball on a June mid-week evening. The book, as the cover image to the right explains, is a history of Chicago's Goose Island Beer Company, creator of the barrel aged stout and most infamous of the craft brewers to cash-out.
The book covers the span of over three decades, tracing an arc from brewpub making English style ales to regional production microbrewery to big craft reject to brand asset within the portfolio of an international global conglomerate. It's quite a remarkable thing.  Before I knew it I was 120 pages in. It is clear that author Josh Noel, a journalist with the Chicago Tribune covering a broad mandate, benefits from his skill as an investigative reporter but also as a native of that fair city. The beer and book both convey a sense of place as well as event.
It also, refreshingly, paints realistic portraits of the key players, warts and all – without the slightest bit of an unseemly tone. My first impression from the book, in fact, was that none of the players behind the rise and fall and then rise and fall of Goose Island were all that attractive. As Noel tells it, brewery founder John Hall comes across as a bit of an angry nutcase who came up through the corporate rat race, starting out as a cardboard box salesman. We read at page 79 that as early as 1996 Hall is described as planning to sell out to big beer. But he's also someone who took a change with his accumulated wealth on a reasonable if calculated risk so the attitude makes sense.
Less sensible is the image created of John's son Greg: drifter turned alcoholic brewer turned egotist face of the business.  To the mid-2000s, he frankly comes off as a poor little rich kid, even if politely described. Even Michael Jackson is given an cameo and a slag at page 30:
Jackson was a good message guy. He wouldn't hesitate to criticize Big Beer. But when a small brewery released a flawed beer, no one knew it from Michael Jackson.
The point of these observations is not to be just unkind. As a result of such honesty – rare among craft narratives – the reader is provided with a basis for trust in Noel's work.  That trust is bolstered by Noel's deft description of the factors behind the mid-2000s shift from micro-brewing to craft brewing as the US gospel of good beer.  While Noel does unfortunately buy into the back dating of "craft"* to an earlier point when it was not either the ethos or in general use, he does explain how the first efforts of the Brewers Association starting with its formation in 2005 were aimed at control of the discourse through control of the language. Noel suggests it needed to do this for internal reasons:
By the early 2000s, craft beer was splintering into identities. It was cool, it was hip, it was counter culture, it was "you're not worthy"…
Not to mention it was when brewers and society at large were uncomfortably witnessing the weird 2002 tale of the "Sex For Sam" sponsored by Samuel Adams Beer in which "prizes were awarded to people who had sex in unlikely public places." Yik. Noel unpacks the tone of the times, unpacks the tension which existed between cottage industry "craft" and what the founders of the Brewers Association were really after and later accomplished: the creation of a single story of large efficient breweries where quality and consistency are the hallmarks. Thus the creation of heterogeneous and hegemonic big craft as an act of sheer control.
Tied to the BA's interest in market control, efficiency and scale – a goal would have made E.P. Taylor glow with pride – are Noel's observations on profit and wealth as a fundamental underlying goal. Be clear on this point. All beer has this as its goal and it applies to macro, old school micro, big craft as well as today's  tiny taprooms. So we read that Goose Island's 312 beer is a hit as much for the retro black telephone tap handle as the taste.  And that Matilda was pushed as it had twice the profit margin of 312! And you thought it was all about homage to the great brewers of Belgium. Chumps.
I am enjoying this book greatly. I may even post another follow up as I have in the past when faced with a book on beer that sits so far above the rest. If you have not bought this, skip a couple of six packs and get your copy now. Like right now. Now.
*Not to mention perpetuates the tooth-achingly saccharine phrase "cast of industry all-stars" at page 124 thus, likely unintentionally, appearing to trip over the line from keen observer to fan-boy-ish insider.