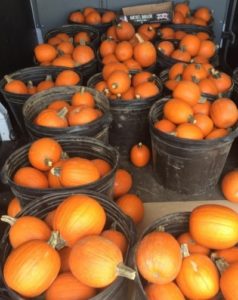 The tweeted response from Nickel Brook Brewing this morning read "how bout them pumpkins?" It was sent in reply to today's hurried announcement of A Good Beer Blog's Pumpkinness Assurance Certificate Program. The program was launched after many many minutes of study and consumer outreach consultancy upon reading this post by the venerable Boing Boing which explains:
Pumpkin is too watery and stringy to can, and the USDA has an exceptionally loosey-goosey definition of "pumpkin," which allows manufacturers to can various winter squash varieties (including one that Libby's specially bred to substitute for pumpkin) and call it "100% pumpkin."
WHAT??? Boing Boing was/were just quoting an article at Food + Wine which contains this bombastic statement: "pumpkin puree is not pumpkin. It's squash." Oh gourd – no… we live in a land of LIES!!! Now, as Stan testified a few days ago, pumpkin beers are more popular than the chorus of complaints would have us understand. He told us to look at what people are putting in their shopping carts. Sounds like he should have told us to look at what brewers are putting in their mash tuns.*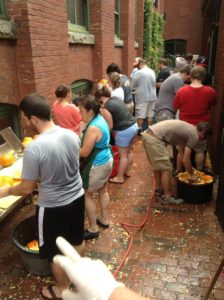 How many pumpkin ales are actually being made of this year's pumpkin patch crop as opposed to last year's bucket of miscellaneous variety gourd glop? How many other ingredients in your beer could be treated with such callous disregard? I posted a tweet bearing witness to the scene at Cambridge Brewing Company near MIT in Massachusetts on 18 August 2013. See the volunteers at work. How many other craft brewers put in the effort that Nickel Brook and CBC are putting in? Speak up! Do you know of one? Send in some compelling evidence and we can issue an official Proof of Pumpkinness Assurance Certificate Notification. For an unnecessarily large fee I am sure I could even draw, sign and mail a certificate to someone. And make sure you ask to see the paper before you buy your next pumpkin ale. Accept no imitations.
*By the way, I get it. I have seen a Blue Hubbard Squash. I have even grown them. Ugly as sin even if tasty as all get out. No wonder they keep them hidden from view. Might make the greatest ale in the history of mankind but no one is putting that on the label.