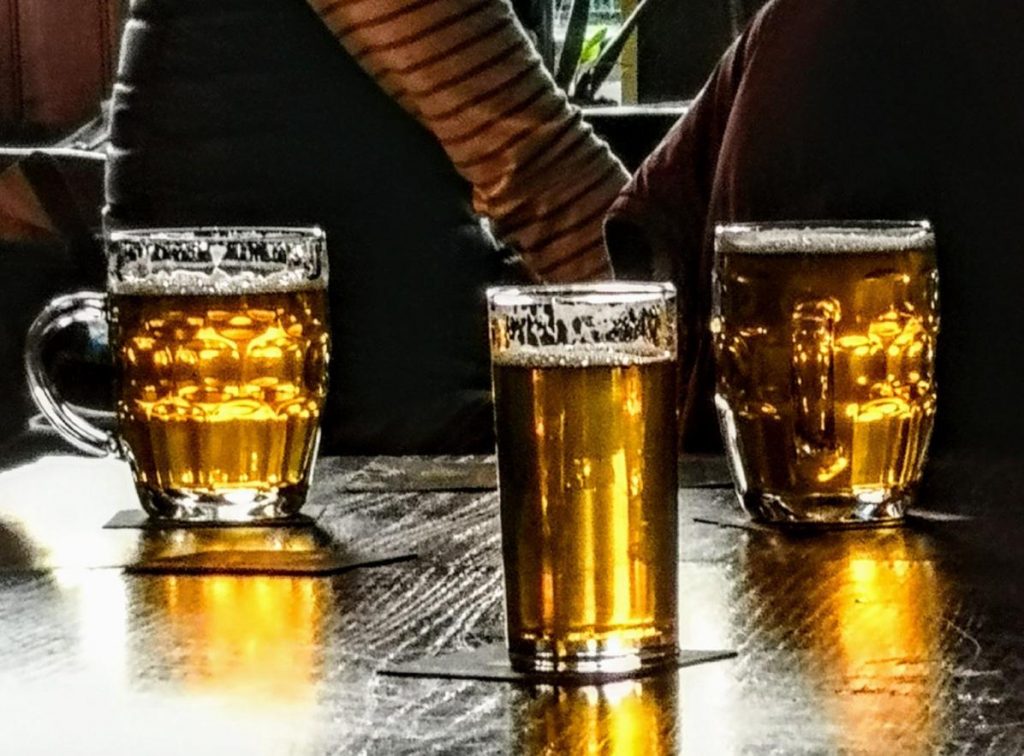 Howdie! It's definitely spring now. Definitely. I've planted radish seed and the snow's all gone.  More planting to come this weekend.  It's a busy time in the beer world with the great retreat having begun in earnest. The Craft Beer Conference is going on in Denver so plenty of hope and new instructions* being delivered. And, in a real sense, nothing immediately new has actually been done under the umbrella of craft has been done for quite a while. Whither glitter 2.o? No one knows… or perhaps cares. Not Martin Taylor who posted the photo of the week up there on Wednesday, clear glowing golden goodness.
Oh, speaking of the Craft Brewers Conference, apparently they hauled an old rocker (who, for some reason, is a brewery cross-branding project) out to speak to them all and he regaled them with a few sexist jokes! Fabulous. Conversely, all hail the greatest mind in the beer world over at least the last decade:
…the ruination of nomenclature leaves you with no power to describe things.
How many times have I said that very thing? Never? You're probably right. But I like it.
In exciting rule of law news, the Canadian federal government has announced it is changing the rules barring inter-provincial trade in booze! Too bad it is regulated at the provincial level as last year's Comeau ruling by the Supreme Court of Canada confirmed. Will there be a constitutional conference on all this? Likely not. Somehow, somewhere a bilateral agreement between two will start the ball rolling. My bet? Nova Scotia and Manitoba!
Neolithic malting techniques explained!
Next up, Thornbridge Brewery in the UK announced a new take on beer and, in a move I trust might be appreciated by our last quote giver up there, it's a step back of the best sort:
Seeing as the current beer market is awash with Citra/Mosaic US-style IPAs, I wanted to create a beer that uses only British ingredients that was slightly different.  I took the concept of German Kellerbier, a timeless, classic style of unfiltered lager, which is as close to cask conditioned real ale as the Germans get, and put a British spin on it to create our new beer, which we named Heartland.  Kellerbier is known as a fresh-tasting, highly drinkable style with flavours drawn from the yeast (as it would have been served direct from the tank) with a fine bitterness.
Read the whole thing. I have never wanted to have a glass of a new beer more. That sounds entirely yum.
One a word: why?
More research has been published in The Lancet showing that regular alcohol is never a good idea if avoiding health issues is part of your life plan. Note again: no j-curve. You are just trading off long term health for short term jollies. Which can be quantified apparently. I am sure your favourite beer writer will disagree with the medical opinion – but who takes health advice from a paid booze trade advocate? Oh, some of you do? Interesting.
Speaking of things that set of craft crybabies, in even greater neg the UK's newspaper The Independent has asked the questions we all want answered. Has craft actually succeeded in making beer no fun? Has good beer gone uttlerly boring?
Another day, another press release with the words "craft beer" in the title – perhaps the second or third this week. This time, a madcap alternative to craft beer fun runs, craft beer mini golf, craft beer rafting, craft beer cycle tours, craft beer billiards, craft beer haircuts and craft beer yoga: a new London "craft beer hotel" from the people at BrewDog. It's apparently a revolutionary place with "craft beer in every room". Please excuse me for a moment while I consign said email to subfolder "CRAFT CRAP."
It's true, isn't it. Who thought a decade ago that ten years of money and ego could actually succeed in making beer so boring? But they have! I like the article's tag line… sub-title… whatever you call it: "Big business has killed the authenticity of small-batch brews." I probably have not paid a nickel into the BrewDog coffers for half a decade so you can't blame me. I like micro and local too much to bother with big craft.
The Beer Nut again takes one for the team and compares discount Italian lagers. Sadly, the better one will never make our side of the Atlantic.
Martyn has written an excellent post on an unexcellent thing… the disappearance of the word "bitter" from the English landscape:
Exactly when it started happening I'm not sure, but bitter, once the glory of the British beer scene, is disappearing. In the place of all those marvellously hoppy, complex bitters and best bitters we once sank by the pottle and quart, we now have brews sold under the same brand names, made by the same breweries, very probably to the same recipes, with the same ingredients – but describing themselves as "amber ales" instead.
Fortunately, Ontario is behind the times so our old school local preferences are still out there to be enjoyed: sweetish husky pale ales, nut browns, dark ales that might be milds but no one has bothered to inquire.
Finally, we here in Ontario and across Canada heard the news of the sad early passing of Joel Manning. Ben Johnson wrote a fitting warm remembrance:
To a person, anyone I've heard speak of Manning is likely to note that "he is a good dude." He was affable, open, steadfastly committed to helping people in his industry, and always willing to talk. He was also, in every sense of the word, a professional brewer. Manning began brewing beer at age 20 when he was hired as a brewing assistant at the original Amsterdam Brewpub in 1986. He worked his way up to Brewmaster there in just three years and held that position until 2004. In 2005 he took over as the Brewmaster at Mill Street Brewery and remained in that role until his retirement last year. He worked in the beer industry for 32 years.
There we are. Another week has passed and if it had a theme in good beer, it was one of loss, both welcome and deeply sad. I hope it's a better week ahead. Taxes loom** but so does the four day Easter long weekend. Did I mention the 150 garlic that overwintered outback are suddenly popping up green? So there is good in the world. I expect more of it to be reported by Boak and Bailey on Saturday and Stan on Monday. You should, too.
*Surely, independent malt.
**Which I still do by hand and pencil and paper for four tax returns for some unknown reason…