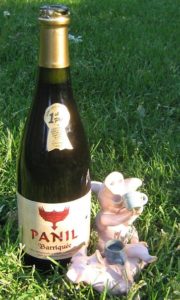 A few weeks or maybe months ago I received an email from a reader asking that I do not use the "Week Of…" format anymore as RSS could not deal with a constantly growing post. I resisted the idea but the more I thought about it, the more I thought that perhaps in addition to the RSS issues, the "Week of…" posts were not as useful as they might be, might not add up to more than a set of notes on a style that are not often used by either me or you, the reader. So I am going to change things around and group some separate posts by themes for a while.
The first topic has been one I have also been thinking about – the sour styles of the low countries. Prior to last year I don't think I had had a true dry lambic and when I had my first Flemish red, a Rodenbach Grand Cru in December 2004, I called it "the best malt vinegar you will ever taste." I ended up being nicer in the full review but, by contrast, I was not nice at all when I had a Cantillon last year:
Quite plainly watery at the outset then acid and more acid…then one note of poo. Not refreshing to slightly sub-Cromwellian stridency. Annoying.
I've been goaded, guided and chastised. I've been told that I miss the point. There is one point that I have been wondering about, however, is how these traditional sour beers developed in "ye olde medieval tymes" when there was no tradition of storing beer before a certain point. Beer was made to be consumed quickly or at least within a season. Storing a cask for years is an act of luxury. When did the era of cask storage arise and who did the storing? You have to be careful about these things as we learned in Farmhouse Ales by Phil Markowski in his discussion of biere de garde which might seem a traditional style but it is one that was framed in its high alcohol form through adoption by students in Lille, France in the 1970s. So one has to ask how it is these things came to be with a wary eye, especially when luxury is claimed…can its cousins snobbery and price inflation be far behind?
That all being said, this is a study of single beers as well as broader phenomena and the first I am looking at, Panil Barriquée, can only be described as a gift from the kind people at Ontario beer and wine distributors Roland and Russell. I am informed that what I received was the slightly more sour version for North America – Stonch and Knut discuss the various grades of this beer over here. The beer pours a fine tan cream foam with heavy lacing over cloudy deep caramel ale. The ale is sweet, fruity and tart – not unlike a tarty apply tart. In the mouth, it is brisk, vinegared, juicy stuff. Plenty of fruit like raisin, cherry, passion fruit and apple but under a sub-astringent tangy acidity. In the finish there is pink grapefruit, hard wood, cherry, vanilla and biscuit and some refreshing lightening up on the acid. I like it like I like rhubarb pie or strong blue cheese, both of which might go with it. Smacky more than puckery.
Knut visited Panil last spring and told us about it at this post. The BAers tell me about what is going on here and all five like it. I like this BA reviewer's observation "stewed apple amongst mixed coarse Indian spices in ghee" because it is sort of that, too. All in all it is both an approachable Flanders Red and a complex one. It is a lovely thing so I am happy to report that the Sour Beer Studies has started off promisingly. For a first class, that is enough.