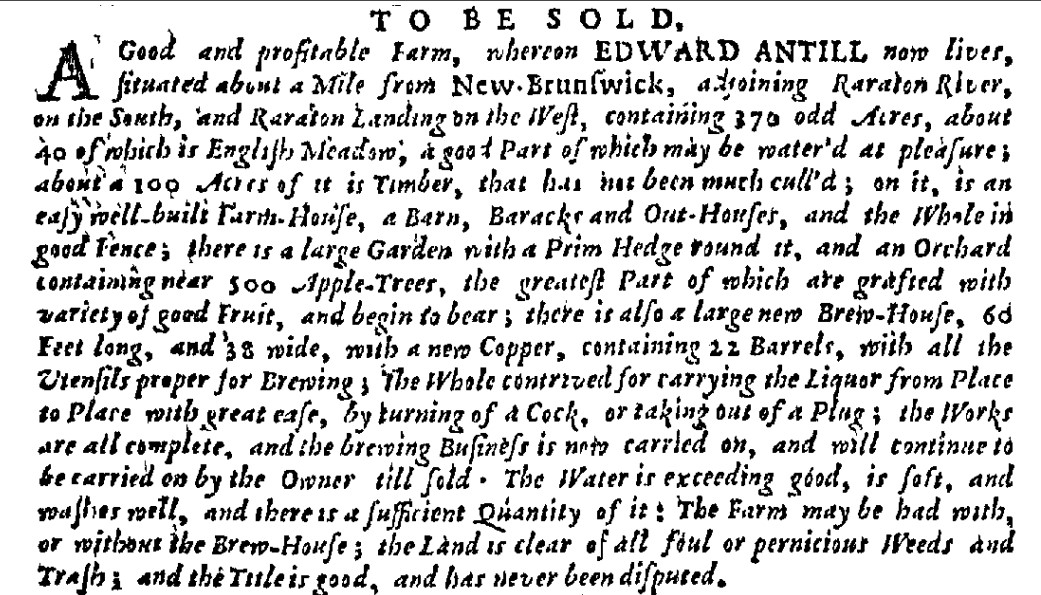 What a fabulous notice in The New-York Gazette of December 11, 1752. Edward Antill was a man of means, merchant, eccentric and gentleman agriculturalist as well as a member of the Loyalist leadership in colonial New Jersey who passed away in 1770. He was better known for his experiments in planting wine grapes* and being raised (as the return of a favour) by a pirate who Antill's father, a lawyer, had saved from the gallows. He gave £1,800 to my dear old college, now the University of Kingston College in Halifax, Nova Scotia and not that bold usurper, Columbia University. The estate, Ross Hall, at a long lost community known as Raritan Landing was not sold until 1768 and his house survived until the 1950s.**
The 2,280 square foot brewery*** sounds like a bit of a marvel, "the whole contrived for carrying the Liquor from Place to Place with great ease, by turning of a Cock, or taking out of a Plug." The property appears to have benefited from both a river shoreline and a creek running though it which would have allowed for both plenty of brewing water as well as a means to transport his ale to market. Ross Hall was built in 1740 of brick, 56 by 42 feet, with four rooms on each floor level, and 12-foot ceilings.****  Around 1910, it served as the club house for a golf course later associated with Rutgers University. Perhaps the brewery is out there under a fairway. Or is it under the Rutgers Ecological Preserve… hmmm…
Not much else to add so this is a bit of a stub post but we've seen that sort of thing out of me before, haven't we. I expect I will spend the next seven months looking for more references to the design of the brewery. Such is life.
*In fact, he was the author of a "grossly untrustworthy essay" on grape growing for the wine trade.
**And English table manners continued there until the early 1800: "…because the "round of beef" served at Ross Hall where a friend lived made her "secretly smile and remember that I was eating at an Englishman's table."
***Which is 2.5 times the size of the brewery Lord Selkirk found at Geneva, NY in 1803.
****Shown at "K" on this map and is the namesake of a blvd.