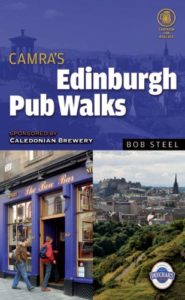 I get cranky. Especially when I have had a cold since Thursday and couldn't get out on the snowshoes this weekend as planned. Heck, I really could not maintain much of a level of consciousness given the fever here, the aches there and the surreal effect of cold medication. Not prime time for the beer fan. So, it's a good thing we have books for these drier stretches. I got this one in the mail a few months ago. Been wondering when I would post about it. I really should post more reviews of CAMRA's excellent books but when this rare review copy came, I noticed my street address was off by about 127 front doors. Some guy two tenths of a mile away must have a great collection.
Anyway, I love this book. Why? Well, for one thing I am familiar with some walks covered having family that live on a few of the streets named upon the maps. I have spent some time there. I even dodged an indignant but well emptied bottle flung from a terrace far far above one Saturday at Hibs when Georgie Best was a no show and my father decided to leave early. But those connections to the town aren't what makes this book work for me. No, its the maps themselves that draw you in. Bright, well laid out and placed smartly on the page they offer clear instruction by the clever use of colour leaving no real need for a table explaining what means what. Then there are the photos which make you want to crawl right though into that place in Prestonpans or the other on Rose Street. [Sadly, it appears that the Rose Street Brewery, where I spent a few happy days in 1986, is not more or at least not worth mentioning.] And then there are the walking tours. I don't know of any North American pub guide based on this idea but it is an excellent one. Implicitly moderate or perhaps otherwise sensible, the 25 routes provide more information than a traveler might ever require and maybe even enough to keep a local well occupied.
The book seems to have been backed by the combination of CAMRA and Caledonian Brewery which might lead one to worry that a fix was in. Not a chance as there is every indication of as ecumenical an approach to mentioning tap offerings as you might wish. Well worth the investment for anyone there in Edinburgh or planning to be.