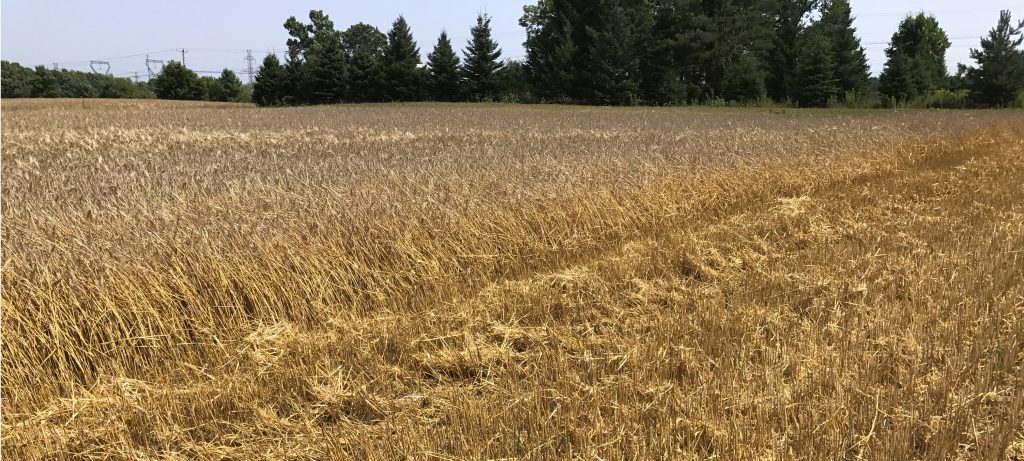 I miss corduroys. Don't you? Eight months a year they are your best pal. One day a year they feel like your lower half is actually a roast chicken in a plastic bag baking in a 450F oven. I haven't seen a leaf turn yet but the grapes out front are starting to ripen into show purple. The barley was ripened in the fields when I visited MacKinnon Brothers Brewing on Monday. I haven't fully captured above how literally golden the fresh cut stalks were – pretty much beer-coloured.* There were a few big beer stories this week but none more important than a good barley crop coming in. Some are not so lucky.
Jeff created a lovely portrait of a small shaded corner. Boak and Bailey found a similar scene from 60 years ago. If there is one thing I like as much as the surprise hue of cut barley it's scenes like these of actual people and how they enjoy their beer.
Here in Ontario, the big news is how the new Provincial government has launched a "buck-a-beer" initiative – including by lowering the minimum price to, you got it, one dollar. The response has not been a warm one from craft brewers and commentators. Great Lakes Beer spoke to CBC Radio while others were interviewed on TV news broadcasts. Jordan took some time before his UK-Euro vacation to set the tone, explaining how the policy change makes little business sense. Crystal pointed out how one brewery, Dominion City, is responding by donating a dollar from every sale to immigration agencies. Other efforts from the charitable to sarcastic response are underway. I'm sure this one is going to build towards the promised release of the new cheap beer for Labour Day. Question: wouldn't that beer have to have been in production before the policy announcement?
I don't recall ever craving no-lo alcohol beer other than to cut beer down to 2.5% or so by pouring half and half. Dad liked it as it was a way to get around his diabetes medications. Not sure the new wave of tasty water would fit any particular one of my needs but that is me.
Beer fests. I found the idea of not taking photos of drunk people a bit weird. Why not other than it's tawdry. Fest organizers and the drinkers put themselves in positions of risk voluntarily. A few images might load social media with something opposing that other weirder idea promoted by the industry – people not drinking craft beer to get drunk. In other fest news, Ben asked if folk were willing to spend $120 for a three hour drinking session. Not a chance, I said. And James B. reported on the continued sexist crap at the GBBF. So… drunken, expensive and being stuck in the same room as sexist pigs. Not exactly my kind of fun. And it's all a shame when I think of someone like the Tandyman behind the scenes, working to ensure these sorts of things don't go on.
I really enjoyed this perspective from BeerAdvocate on wholesale beer buying in the US craft market. Thirty years ago I was a wholesale produce trader for a bit and the story rings true, especially the need to respond to demand rather than try to set trends at the supply side of the equation. Consider this:
"The guy at the shop asks, 'Where are you opening?' I tell him and he says, 'Oh, you're going to be selling gospel music.' I was an alternative, metal, New Wave kind of guy. I thought, 'I'll never sell gospel music!' I opened my fledgling store with no money and three or four of the first 10 people in the door asked for gospel music. Guess how long it took before I started selling gospel music?" That experience stuck with Singmaster. "You set something up, but then you follow what the customers do if you're smart," he says. "It doesn't matter what I like or what you like… it only matters what the customers [do]."
When I express my unhappiness with the concept of beer "curation" go back and read that passage.
Ed gave us this bit of fabulousness: "Not everyone like lambic…"
That's it for this week. No need to link to the usual bland beer travel puff, beer pairing puff or puff-packed beer style announcements. A shorter summary of the news as you would expect from early mid-August but still enough real news to keep it interesting. Don't forget to tune in to the internets for Boak and Bailey every Saturday and Stan on Mondays.
*Really? No, I had no idea. Thanks so much for the feedback!