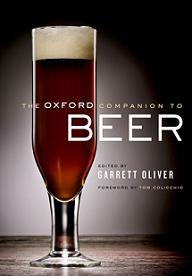 Well, I didn't expect to be called out – or, rather, have my suspicions confirmed – by the east coast media establishment. I did say that I expect this to be a slow project from day one. Nonetheless, Clay Risen's observations at The Atlantic today on the state of beer writing are well worth reading, including these:
Newcomers to wine can follow a reliable guide like Asimov or the Wall Street Journal's Lettie Teague; good luck finding their equivalents (i.e., deeply knowledgeable but layman-accessible) in the world of beer…
Such absences would matter more if the book pretended to objective universality; as a companion guided by Oliver's subjective perspective, their absences are points for debate…
The Wiki has only about 40 entries, and most of them deal with matters of interpretation. In a book that may have upwards of 100,000 factual statements in it, the presence of a few dozen errors, while regrettable, is pretty impressive…
It's a shame that would-be critics have spent their entire time fact-checking the precise rules of the Royal Court's brewing guidelines under Henry VIII (subject of one catch), because they've overlooked the achievement of the book as a whole — though, given their vehemence, it's a good bet they weren't going to give it a chance in any case. Thoroughly illustrated and beautifully typeset, the book is precisely what a companion should be: an engaging, subjective, erudite guide to the interested novice and, at the same time, a quick reference for the initiated…
Secret: one of my reasons for setting up the wiki was the suspicion that my concern with the date that lager beer was introduced to Canada was a blip. Fortunately, the wiki is intended – can only be intended – to give the book more than a chance. It's a way of examining the text but it will take a lot of time. Feel for poor Stan who almost lost his marbles just working his way to the entry for "Thomas Jefferson" in order to start filling in the Index to Entries by Author. I have started to load his efforts… but that will take time, too. Might get done by Christmas.
This pace in turn is giving me more patience with the book. Oxford University Press chose my "throwing the book against the wall" sentence for their marketing but I might have been too rash. Garrett indicated in an email when we discussed the wiki that there was a chance for small corrections or additions between printings and that the wiki might be useful for that. I hope it is. Criticism can be useful. Even for those books in those subject areas of the library or the shop… or Amazon, I suppose… where not enough, as Risen suggests, has yet been written.