A surprisingly long set of links face me in my inbox today. Folk send me suggestions all the time… well, some of the time… OK, once in a while. Honestly, for the most part to make this weekly update of the news in good beer I just email myself links as I notice a story through the week. Usually there are seven or nine by early in the week. This week, I had over twenty by Monday. And, yes, emails. So… let's dive right in.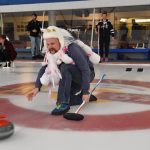 First off, if you are in Toronto this evening (and I will be if only passing through via VIA) you can pop over to this fabulous fundraiser for an important cause to witness some top notch curling action (like that to the right from last year) at the Beer Sisters' Charity Hopspiel:*
On January 31st, brewers from across Ontario will gather at the Royal Canadian Curling Club in Toronto's east end. Clad in array of plaid, denim, light-up shorts, toques and matching jerseys, 24 brewing industry teams will face-off to raise money for the Native Women's Resource Centre in Toronto. The Beer Sisters' Charity Hopspiel, hosted by beer writers and educators Crystal and Tara Luxmore, is in its 7th year. The event has raised over $32,000 for the centre, and the sisters hope that this year they'll cross the $40,000 mark.
Fabulous! And at the Royal Canadian Curling Club! An actual place I am assured, not just a mid-range brand of rye whisky from the 1950s.
Next, Katie wrote a wonderful piece on heritage barley published in Ferment that explores the use of Chevallier, the darling English malting from around 1820 to WWI. I immediately started badgering her about joining my Battledore revival crusade.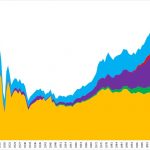 Note: Victorians represented in under 1% of the graph and the most striking thing is not their habits so much as the near replication of the feat right before the economic meltdown of 2007-08. Nonetheless, a very handy set of charts and who doesn't like handy sets of charts?
Not journalism.  Or at least not good journalism.** Just badgering. Easy enough to get a quote from someone but it usually requires letting them speak.
An clear and accurate guide to tipping in Canadian tavs, pubs and bars.
Beer Ramen. Kill me now.
Update: We've had an actual update on #FlagshipFebruary and I couldn't be more grateful for the clarification:
…it is in our and the industry's best interest if we take a moment occasionally to appreciate the flagship beers of the industry's foundational breweries…
So, the brewery has to have continued through the good beer era and the current flagship is the brewery hallmarks to recognize. Andy Crouch wrote a wonderful dense poem of a tweet on the same topic:
Revisiting long established flagships tastes of antiquity, success, failure, unfulfilled dreams of resurrection, and ultimately nostalgia. A place in time to momentarily revisit if only to remind you how far you've come but rarely a place to linger long.
I noticed this statement in a piece on German brewing culture and I thought it was extraordinary for suggesting agricultural capacity of a landscape is not the governing factor in whether beer was made or not:
Alsace is on Europe's religious faultline. Beer is often thought of a drink of the Protestant north, but the facts don't really bear that out. Belgium, Bavaria and Bohemia are historically Catholic (even if that religious attachment has faded); only Britain, of Europe's foundational beer cultures, is Protestant. Does this suggest beer is less Protestant than thought? Perhaps, but I also think Catholic cultures are (as you might assume) better at preservation.
Well, I suppose someone has created a jam/jelly faultline based on religion. Me, I'd suggest many western and central European brewing traditions were pretty much established before the Reformation.
The effect of the US government shutdown on the brewing trade is measurable. Why the difference in processing wines and spirits? I blame the slackers attracted to a career in the beer label branch.
Gary's piece on Watney's Red Barrel as experienced in eastern North America at the time contains plenty of those links to contemporary primary documents that leave you persuaded. By way of contrast, this could really be read in two entirely opposite ways:
"I actually am mystified myself," says Jeff Alworth. He should know…
Fine. I've held on long enough. Let's talk Fuller's or at least the highlights of the discussion. Promethean Jordan found a very helpful Brexit angle on the timing based on last year's visit. Martyn argued convincingly that the whole sale spoke of business success and a strong future going forward. Then he added a bonus history of Asahi to deal with, you know, the legitimacy issues. Jeff at distance took it as a hefty body blow and mainly sees that it poses great risk to the English cask ale scene. Boak and Bailey wrote from their semi-characteristic personal perspective, supposing they are facing another long goodbye to a treasured relationship. Matt sided with the corporate success group and then started blatantly and publicly gambling with Boak and Bailey over the matter. Pete wrote first about his lack of levelheadedness when faced with the news and then got level headed and then sorta wobbled again in the semi-revisionist Book of Genesis stuff.***
My take? First, Fuller's has been masterful in building up its reputation with good beer conversationalists over the last ten years. Remember how fun it was when @FullersJohn started tweeting? How beer writers were brought in and got their names on the label? What is really being noticed now is how the emotional credit Fuller's they earned through that clever outreach has been truly a rich investment. And notice how none of the commentary comments upon that even though it was all done openly and with integrity.  Second, the only constant about the beer business over the centuries has been the goal of continuous growth, merger and acquisition. Brewing has two great outputs: beer and wealth. This is just the latter being successfully served after a long stretch merrily servicing the former.
I love this tweet by Jancis R:
Never ceases to amaze me when we get messages like this: 'We'd like to find out how to go about having our wines scored by Jancis Robinson, as well as the costs involved.' Who charges to taste wine?
Who charges to taste beer? I know some but it would be rude to mention, no? Conversely, there is a craft beer fraudster working the US south:
"The phone rang and rang and rang…I checked the house and it was empty. The door was unlocked," Brandon Oliver says. "His chickens were still in the backyard…about 90% of his clothes were gone…he left as if he only had six hours to leave." Foster left his tools out at the unfinished beer garden. He and his family left town overnight.
The abandonment of the chickens is a sweet detail.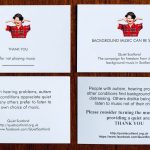 As someone with hearing that will never get any better, I really like this inordinately nice idea from a campaign under the heading Quiet Scotland:
Ever left a shop or been unable to enjoy a meal or drink because the background music has been so loud? Don't like complaining? Try leaving one of our polite cards to get your point across.
An email went around from NAGBW HQ about the impending demise of the All About Beer web archive and I first thought it was an oddly presumptuous thing to send… and then I thought it was kind to alert me. I did not save any of my own work as anything I pitched was not dubbed worthy – which made me happy. I really hate editors and others paid to make things duller. But I did save Stan's story How Craft Became Craft for very obvious reasons.
And, finally, let's just watch this**** and listen to the screams of those precious darlings witnessing a part of their personal emotional foundations, the rebellious idols of their youths, being washed away out from underneath their feet:
That's it! A big week in the contemporary detritus of good beer culture. Please check out Boak and Bailey on Saturday and then Stan on Monday for more sensible and refined responses to the week in good beer.
* For those not in the punny know, see Bonspiel.
**Which is quite another point we never explore when a writer claims the journalism label… or at least the helpful bits. Seldom the adoption of the concurrent ethics lead at that moment.
***"Sierra Nevada's Pale Ale began life as an attempt to imitate Fuller's ESB." Really? How many beers is SNPA an clone of? Ballentine IPA. Burt Grant's work. What else?
****And this, for that matter.