I say "very short" up there as I never know where these things are going. I am like a one man Brexit in that sense. Suffice it to say, mustering the time and content for this post differs from week to week but, unlike Brexit perhaps, is always the source of joyous surprise.  I couldn't imagine anything could be more screwed up than 1970s Canadian constitutional conferences – shown live on TV all day in my youth. But Brexit is it! I know some of you are actually living under this nutty-nutso situation so I will not go on. Excecpt to wonder what a backstop really means to @thebeernut.
So what is up in reality land?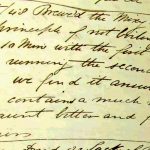 First, Geoff Latham has an interesting question: what does this record from a brewing session that occurred in September 1848 mean? It appears to show someone dabbling in early hipsterism, employing unholy techniques when it comes to hops. Click on that thumbnail. Can you read the text and help with the mystery?*
Interesting. Second, now Stan has a question:
I think I've only asked a variation on that question one other time — in this case the more open ended, "What is the most important hop ever?" — and Jason Perrault of Select Botanicals and Perrault Farms said to give him a little time to think about it. I haven't pressed him on it since, but now might be time.
My answer – and I am sticking to it – is the one in the beer on the ships that had the cannons of the Hanseatic League 1300 to 1500. Likely proto-Saaz.
Home brew for three pence a pint! What year would that have been? That was my own Burco dream back in the middle of the 1980s. Speaking of the 1980s, great news of  Mendocino Brewing Company, care of a Tom tip. An early micro brewing icon is being revived:
Though the beer is not being produced inside the cavernous, 65,000 square-foot facility, Krauss and his team have high hopes about the future, to the delight of local beer drinkers and fans of the legendary brews. "Red Tail Ale and Eye of the Hawk are back," smiles Krauss. The beers have recently been revived by the brand's original brew master, Don Barkley, and can currently be purchased on tap at a few inland Mendo locations: in Ukiah at Crush, Cultivo and the Sports Attic; in Hopland at Campovida; and once again, where it all began, at the Hopland Tap, where the ales were originally served more than three decades ago.
Right on. Moving on, we find some odd responses to the idea of more craft beer going into the UK supermarket chain Tesco. Apparently, the Tand is still the clearest thinking person in beer culture:
This should surprise nobody. Breweries are businesses and while keeping it cosily in the bubble is nice for fans, it don't pay the milkman. Big beer and big business want a share and they know how to go about it. Expect much more of similar.
The odd thing for me is the twin ideas that (i) for some reason we beer writers are supposed to be boosters for a bigger market slice for the  brewers that self-identify as preferable and yet (ii) we want to keep those precious brewers human scale as if this all is some sort of personal relationship. Note: never has this occurred in all of human history.
Similarly, Paste magazine has listed some of the contract beers they sell under house names – and then unpacks who is actually making them like this entry for Mission Street Pale Ale:
Attributed to Steinhause Brewing in CA, this pale ale actually comes from California's own Firestone Walker, who also makes a handful of other Mission St. styles like blonde and black ales as well as a hefeweizen. They're also behind Trader Joe's Fat Weasel Ale, Jumping Cow Amber, Frugal Joe's Ordinary Beer, and the Gila Monster Amber Lager.
I had heard years ago that Unibroue up here in Canada made all their Belgian ales. Makes sense. Why sell bad beer in your store when you can rebrand good stuff? And why be a brewer competing with chain branded beer when you can brew it yourself? Everyone wins.
Speaking of beer on the move, Josh Rubin has a great story in The Toronto Star on the ambitious expansion of one Ontario brewery into the Big Apple including one non-traditional and interesting comment from a craft brewer:
Garrett Oliver, brewmaster at Brooklyn Brewery, was puzzled but welcomes the new arrival. "It seems like an awfully strange move, but then again, we'd probably happily open in Paris or Tokyo, so maybe it's the same for everyone these days," said Oliver. "If they make great beer, people will come. And I can walk there from my house. Brooklyn once brewed 15 per cent of all the beer in the United States, so I'm sure that one more brewery/taproom will be just fine," Oliver said.
Clever people. I hope they make a go of it. Sadly, elsewhere apparently stupid is still a part of craft beer culture:
"We understand it is a bit risqué, but it's in good humor, comical, and consensual.  We have received good feedback from when we have showed this to many" said Brady.
Jeff obviously was not part of that early feedback loop. Really, I hope you don't bother looking at the underlying story. Morons. Particularly swell that they are 'splainin' sorts who unilaterally assert something is consensual.
Finally in far happier branding news, big craft brewer Stone has lost its motion for a preliminary injunction in that trademark infringement case against cheery micro macro Miller. I say happy because the court has confirmed that the case between Stone and Miller over beer brands is all about money and not some sort of special status. I say happy, too, because it places Dr. Johnson squarely back in the midst of it all, as we observe again with him the unassailable truth that brewing offers and perhaps even inflicts the curse of "the potentiality of growing rich beyond the dreams of avarice" upon those who are not careful, who over reach.  Brendan has more in his Wednesday afternoon tweet-fest of the court's ruling.
Well, that's it. Not as short as I had thought – and not even all that pointless! More good news than sad. Not a bad week. The dirty snow has already faded to the lump here an there on the north side of things. Desperate for more? You know the drill: Boak and Bailey on Saturday and Stan on Monday. See ya next week, unless that real job of mine gets in the way. Think I am out at meetings on Tuesday and on the road Wednesday night. Uh oh.
*Ooops… forgot I hate any use of "mystery" as it relates to beer and drinking culture.