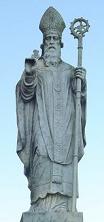 Eight years on and still we read about the abomination of green beer, the correct spelling of the drunken holiday and holiers than holy insisting Guinness is not what it was. Lecturing. Nothing like keeping it dull, craft. Way to go.
Let's be honest. It's a "spring is coming" fest. It's a "I don't have to study for final exams quite yet" fest. On the drive in this morning, a lovely sunny morning recovering from the last few days of deep cold and whipping winter storm, I saw two of the local university gits standing at the shoreline,
gazing out upon the head of the St. Lawrence backs to the road wearing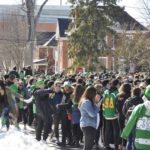 matching baseball jerseys, white with green pin stripes. Their jerseys were both numbered "17" and the name above the number was "WASTED" on both. I expect they already were. By noon, they have gathered in herds. Tomorrow I shall rise early, just about when I trust they will be hitting the hay… or the floor… or wherever.
Every seven or sometimes thirteen years, the 17th of March lands on a Friday. You might see ten in a reasonably long life time, fewer in your adult years. One – or two, if you are lucky, at most – during the time of your greatest stupidity as a bar crawler. Short of death or injury, breach of liquor law or crime – is it so bad, craft beer cognoscenti, that the young have their good time? Is it so bad that the beer is green and cheap or that the beards lack moustaches?*
*Well, I never got that facial hair bit but you get my point.