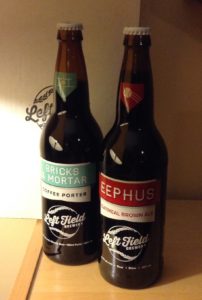 Is it just me or are samples you don't ask for different? A wee giftie. A few brewers still send me stuff like these two beers from Toronto's Left Field Brewery. I don't hunt them out anymore and get so few these days it hardly matters. That's what I tell myself. I still pure, right? Let's be honest. Years ago, though recent enough to have been in this house, two separate UPS vans met face to face on the street where we live. They laughed over how they were sick of dropping of stuff at my place. Each driver had a box packed with various beers sent by gracious and keen distributors anxious for approval, when once this blog was the sort of place read, I am told, by the staff of the New York Times Food and Drink section. Now? Let's stick with that word – different.
I still get samples I don't write about. Some free beer is still just that Heineken Light sent in a cheap beach cooler with a 57 cent AM/FM radio built into the side. Or it's an oddly foul crap craft that should never have been made. In an embossed bottle made so badly that the extra trim cuts you, leaving you will bloody palm. That was a great one. Beer from Left Field are nothing like that. With Game 4 between the Cubs and the Tribe on, they certainly fit the evening's entertainment given the brewery's baseball themed branding. The neck label is shaped like home plate. The names are usually linked to the game.
Not so with Bricks and Morter, a special release coffee porter. The back of the expensively presented painted bottle describes it as a tribute to the history of their neighbourhood's brick trade. The coffee is from a nearby roaster, added during the final stage of extraction. I am told. The beer pours a deep cola with a thick, mocha coloured head.  One the nose, sweet dark coffee. In the mouth, a thick ale – bitter dark coffee made more so with a dose of twiggy hop. A small nod to licorice and eucalyptus. There is husky, rough texture to the beer that works, accentuating the espresso. The result is a 6% dark ale full of flavour that comes across as a light version of an imperial stout.
Eephus is an old friend. When I drink it I feel like I am cheating on The Whale, CBW's flagship brown ale. I like brown ales.  Two years and a season ago in June 2014, I was out with Ron and Jordan on a rare trip to Toronto. The evening struggling to understand what good beer meant in that place at that time was well capped with Grizzly Beer, a solid comforting thoughtful brown ale at Bellwoods. Eephus was Left Field's first beer and one that signaled good things. This bottle, like its sibling above, displays a fresh powdery texture that conveys goodness, thickness. A touch lighter at 5.5% there is no adjunct between you and the ale, unless you consider oats a novel ingredient. It's flaked oats and not oat malt, by the way. Only a partial fermentable, a body builder that gives a silky touch. I will say that the hop profile is a bit more flowery, a bit more bitter than I recall from earlier happy sessions but it sits well in this incarnation.
An Eephus, in case you are wondering, is a slow looping trick pitch rarely trotted out, meant to throw off a batter. "Spaceman" Bill Lee would use when he was an Expo or a Red Sox.