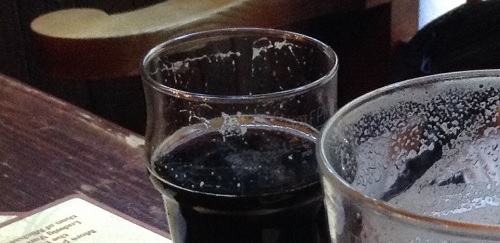 Something very odd has happened to me over these last two months, August and September. I am reading novels. Rebus novels. I haven't read novels for years. Decades. For some reason, I was driven off fiction by being an usher at a playhouse in undergrad. Perhaps watching plays repeatedly had the same effect as watching sausages getting made. Don't know. Then a career in reading and writing masses of pages every week put me off pleasure reading of any sort for a long time. I'd browse through histories, graze upon articles and essays and write plenty. Hunting for clues in newspapers of the Georgians to Edwardians took a big part of my time. But undisrupted cover to cover novel reading? Never.
Then we traveled to Scotland twice in a year, spending time with family, looking out the windows of pubs. I've since added BBC Scotland to the regular radio playing in the background as life goes on around the house. Followed the news. And then one of the Rebus books came as a gift. Detective fiction set near to the Firth of Forth. I was little worried about it when I unwrapped it. I work with police so I was thinking it wouldn't be much of a break from working life so it sat from spring to summer. I am now on my sixth novel in seven weeks. Consider this:
In a large pub near the tube station, a barn of a place with walls painted torrid red, Rebus remembered that he had not tried the local brews since coming south. He'd gone for a drink with George Flight, but had stuck to whisky. He looked at the row of pumps, while the barman watched him, a proprietorial hand resting on one pump. Rebus nodded towards this resting hand.
'Is it any good.'
The man snorted. 'It's bloody Fuller's, mate, of course it's good.'
'A pint of that then, please.'
The stuff turned out to have a watery look, like cold tea, but tasted smooth and malty. The barman was still watching him, so Rebus nodded approval, then took his glass to a distant corner where the public telephone stood.
That passage up there is from an early novel, 1992's Tooth and Nail. Even though it's from the one book in England, it's typical of the tone. Plain. Observational. Often a dark corner. Always menace. Always drink. My cousins kept telling me to get to the Oxford Bar when I was in Edinburgh, the favourite of the stories' main character. Haven't made it there yet. Plenty of other good pubs saw me crossing the doorstep. Plenty that show up in the Rebus stories, too, both high and low. Well written recognizable realistic descriptions of unadorned pub life. Not always pretty.
It's the sort of writing that gives you hope. So much that is written about the ordinary course of things – and especially about beer and pubs – is either pumped and puffed up or made stark to attract an audience. And certainly the Rebus stories do the latter through their narrative and pace. But not the setting. The fresh baked baps glow warm in the hands of the officer returning home after a night shift. The pubs have smells. The streets chatter. One hint. I've spent reasonable lengths of time in Edinburgh on five or six occasions so far in life so I have a sense of some of its parts. But not others. Bob Steel's Edinburgh Pub Walks – with its photos, maps and pub descriptions – places a lot of the action in the Rebus novels directly into context. As good a companion guide as I might want even if unintentional.