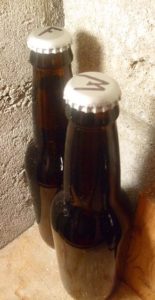 OK, it is Frank and The Whale, actually, the two brews from Buffalo's Community Beer Works. The recent Euro 2012 Beer Bloggers Conference has sent the up a red flag about the ethics of samples. Really? I suppose some have ethical debates within about the free bit of gak they might foist upon you at a grocery if you don't plan your cart route cleverly. I think Tandy is on the right track. Missed PR opportunity. That's all.
These samples sparkle ethically. A work friend was coming to this end of Lake Ontario from the other end and rather than stay in Canada popped south. He asked if there was anything he might pick up and I directed him to CBW who hand filled these two bottles for same delivery back across the border. They are only on tap so far so the bottling is a bit of an experiment. The "F" and "W" black markered on the cap is not actual branding. So, not available in my town or country and not available in this format. If I like them, I know the pain and torment of alienation from the beloved. If I don't, well, what was the treat that I was somehow leveraging against my inner compass? No ethical mine field when the prize is crap. Result? My soul is as pure as the lamb's.
Let's see. Gimme a second to get a glass…
Frank poured a clouded light gold, under whipped egg white head. The aroma jumped at me as soon as I popped the cap. Bright apricot and lime citrus on the most modest snort. On the swish, it is a lighter bodies mouthful of grapefruit and arugula. Very much the lawnmower in the the weedy ditch sort of hopping. At 4.6% God knows I could not possibly suggest this is sessionable but one sure could consume a significant quality at a moderate pace over a long period of time. The slightly drying finish reminds me a lot of Nickle Creek's APA of a couple of weeks ago. But this is a bit more of a fruity take of a pale ale. Like it lots. BAers who have had it have the love.
The Whale is beefier at 5.9%. Rahther than rocky meringue, from above this looks like a very large espresso with its fine mocha cream head. Plenty to smell: date, cocoa, coffee. In the mouth a wonderful wash of soft water cream and coffee with nut and dark dry fruit flavours wafting about. Really quite rich and lovely. Hopping is there, a bit minty but only a bit, to cut any cloy and also to frame the flavours in the malt. I get licorice and a bit of white pepper, too. Maybe even a little cigar. Quite the thing. Rich but not flabby. Still bread crusty. More BAer love.
So. Feeling ethically pure still? Sure am. A fine brace of beers as ever I had and certainly so given that they are from a brewery that has only been open for month and could fit in my shed.