This is an interesting notice in the October 31, 1986 edition of the Times Union from Albany, New York under the heading "Newman's Brews Beer Tasting":
English beer authority Michael Jackson will visit Albany Nov. 4 to conduct "The Quintessential Beer Tasting," at 8 p.m. at the Century House in Latham. The international beer tasting, sponsored by Albany's Newman Brewing Company, will be open to the public. Jackson, known as "The Bard of Beer" and author of "The World Guide to Beer," has been called the world's best authority on beer. He has led beer tastings at Harrods in London and the Pierre Hotel in New York City. For the Albany show, he will lead a guided tour through a selection of 13 international beers. Tickets at $6 per person are available through Newman's Brewery at 465- 8501 and at the door.
What is really fun about the item is that a few days later, on 5 November 1986, a report on the event written by Fred LeBrun was published in the same paper under the headline "Beer Guru Salutes Newman's" which I need to reproduce in full to properly undertake a review of the implications:
The real Michael Jackson came to Albany yesterday. Downtown was snoring because it was Election Day, so he did what he frequently does when he's on the road anyway. He had a well-thought-out Newman's Albany Amber Ale at Ogden's. Now Ogden's, a reasonably serious restaurant, is not a bistro that would first come to mind for a casual beer. But then the real Michael Jackson is not a casual beer drinker.
It should be noted about here that this real Michael Jackson rarely sleeps in an oxygen tent, at least by choice, nor is he likely to be caught fondling a Pepsi. He did wear a sequined glove for a while as a goof, but grew tired of it in a couple of hours. This real Michael Jackson is 44, bearded, a touch pudgy, tweedy and scholarly, wears glasses and speaks with a pleasant, all-purpose British accent. He is also the world's most respected authority on beer. His "The World Guide to Beer" of a decade ago is still the definitive text on the subject, and his newly published "Simon and Schuster Pocket Guide to Beer" will do still more to educate a world awakening to the great variety and styles of beers and ales available, using much the same critical language in the past reserved for fine wines. From Adelaide to Nairobi to Anchor Steam country out in San Francisco, wherever beer and ale is brewed, this Michael Jackson is The Word.
He was in Albany on a pilgrimage of sorts, paying respects to one of his favorite American alemakers, William Newman, and sampling a fresh batch of Newman's Winter Ale, due out for the general public in a couple of weeks. A few months ago, when Jackson was interviewed by the Chicago Sun-Times, he listed Newman's Winter Ale as one of his five favorite American beers. Anchor Steam, for the record, remains his favorite.
For Albany, in its Tricentenniel year, Jackson's visit offers a double dose of irony. Albany, and the Capital District in general, was once a brewing center of the United States, according to Jackson, along with Philadelphia. At one time, there were breweries in practically every Albany neighborhood, brewing a variety of styles – 18 at one point. But when the Newmans, William and Marie, opened their microbrewery five years ago exactly, there wasn't a single brewery left in town. Schaefer, the last major brewery, was newly gone, and shortly before that Hedrick's, owned by Albany County Democratic Chairman Dan O'Connell, and Fitzgerald across the river.
Yet in the five years since, the Newmans has struggled mightily to carve out a steady little market for itself with deep, full-flavored, hoppy ales sold in kegs and jury-rigged take- home containers. They have fought against the biggies, which in this market is Genesee, and Miller, and the ever-present Budweiser, and recently a hot run by Stroh's. They have eked out standing in this crowd. Now Albany Amber Beer is available in bottles, created to Bill Newman's fussy specs by the Schmidt's Brewery in Philadelphia. Meanwhile, the active center of new breweries in America has moved to the West Coast, notably Oregon and Washington State.
Out there, the Newmans are positively venerated, idolized, for what they've done. They were the first on the East Coast to create a new-style baby brewery offering traditional beers and ales of great character. Now there's Samuel Adams in Boston, and New Amsterdam and Royal Amber in New York and dozens more. "Newman's has never had the credit it deserves," writes Jackson in his newest guide. "Its misfortune is to be in Albany, which may be the state capital but is an unimaginable distance – about 140 miles – from downtown Manhattan." Prophets in their own land.
Jackson strongly recommended making the trek up the Hudson to sample draft Newman's, much better than the bottled stuff. Good news for Jackson's next book, as far as the Newmans are concerned, was his delight with the soon- to-be-released Winter Ale, an ale Bill Newman varies each time it comes out. "It has a very rich aroma, with a lot of fruitiness to the palate," Jackson said Tuesday, referring to a little notebook he always keeps with him. The Word has spoken.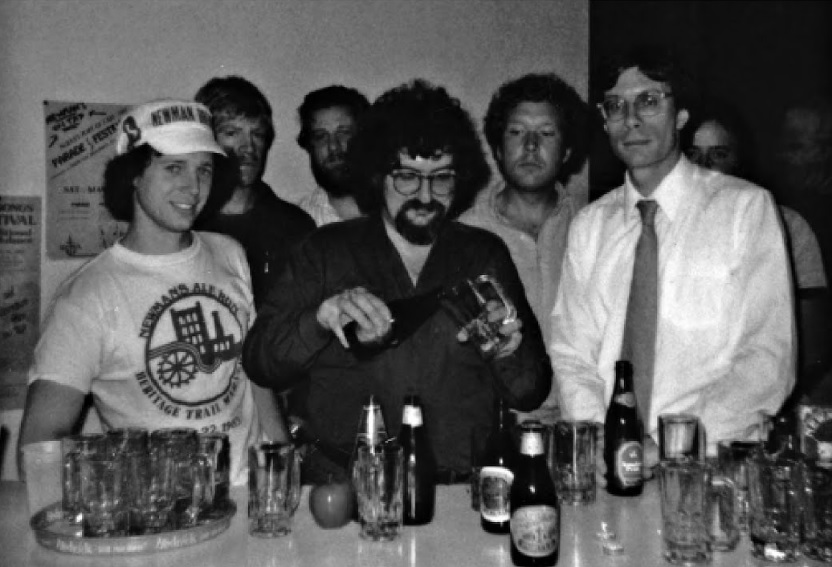 Craig mentioned a Jackson visit in our 2014 book, Upper Hudson Valley Beer. A photo caption states that Michael Jackson, in the middle sporting his Jeff Lynne lid, said on a 1985 visit: "[i]f Newman succeeds in his heroic venture, he will undoubtedly inspire many others." Newman is the guy in the necktie. As we told the tale, Newman spent three months in 1979 under the tutelage of the father of the British independent brewery movement, Peter Austin, at his Ringwood Brewery in Hampshire England. With Austin, Newman received a crash-course in all things brewing, and toured many of the countries breweries—both big and small. He returned to Albany with plans for his own version of Austin's 10-barrel, open fermenting brewing system and, within a year, was brewing Newman's Albany Amber as the 1980s were hitting their stride. 
Look what the LeBrun article notes. Jackson knew in the mid-80s that Albany had been one of the great brewing centres. As Craig has learned, that was forgotten history locally.  And Newman's wasn't just early, it was good if Jackson's word the Winter Ale was worth anything. There is an implication that the west coast had passed an earlier east coast prominence in micro brewing – not part of the triumphalism of today but, as we know, history gets forgotten. And Newman was considered their forebearer.
In December 2015, Gary wrote about his own trips in the 1980s from Montreal south to visit Newman's. It makes for a great companion piece. It was all over soon. On 15 August 1987, it was reported in the Knickerbocker News that Newman's had filed for bankruptcy and, while it would live on as a contract brewed beer for a few more years, the brewing era was over.