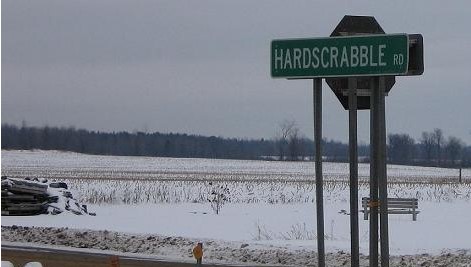 I should not complain about having to shovel snow on the 20th of January when its the first real snow of the winter. It's not that tough a life. Five weeks to March today means it won't be all that bad from here on out. What effect has this on my beer consumption? Not so much in volume but now is the time when a pint of stout and port is added to any sensible diet. I say "a" pint with care given the concoction should be somewhere in the area of 10% alc. Yowza. But when does great reward comes without some risk?
Not long after last week's deadline for news submissions, Ed tweeted that he had "[j]ust been sent an excellent article on rice malt beer 😉" The study describes the potential of rice for brewing and sets out an optimized malting program allowed water saving.  Which is cool. But it is also cool that it is about the use of rice which, except for corn, is the most hated of fermentables. This is despite the fact that rice beer came to Canada about 93 years ago – well after it was brewed in the U. S. of A. – a fact which has been fabulously preserved for us all in the Supreme Court of Canada ruling in the case The King v. Carling Export Brewing & Malting Co. Ltd., [1930] S.C.R. 361 at page 373 about the production of beer during the era of US prohibition:
I do not think we can accept the suggestion that there was no market for lager beer in Ontario. The learned trial judge dwells upon the fact that rice beer is peculiarly an American taste, and infers that it is not sold in Ontario. The evidence in support of this does not proceed from disinterested sources and I wonder whether the boundary line so sharply affects the taste in illicit liquor. In truth, it is stated by Low that it was not until some time in 1926 that the respondents began the manufacture of rice beer, and we are not told at what date, if ever, in their brewery, rice beer wholly superseded malt beer.*
Wouldn't it be interesting if we stopped calling it "American-style lager" and just called it rice beer… or corn beer as the case may be? Will it take another century to pass for good beer to admit this fundamental reality of North American brewing culture?
Beer at the Post Office? Thanks Vlad!
I am still not sure what to make of #FlagshipFebruary.** Like a lot of you, I have been making up alternative hashtags like #GoldenOldieAles, #FlogshipFebruary and #PartyLikeIts1999. But it's earnestly offered and, you know, as long as there isn't a secret spreadsheet being sent around to members of the good beer PR-consulto class prearranging who are going to each write about this or that fabulous flagship as a way to artificially drum up interest and maybe future paying PR gigs, I think we might actually come away with a reasonably good taste in our mouths.
It reminds me a lot of by far the most successful of such hashtags, #IPADay created in 2011 by this blog's friend Ashley Routson aka The Beer Wench.*** But (and this was not really the case in 2001 so laugh not) I would argue was easier to determine what an IPA was in 2011 than figure out what "flagship" mean today. As I am l not clear what a flagship really is, I asked some questions like if the Toronto brewery Left Field consider their oatmeal brown Eephus (1) their foundation (2) their flagship (3) both or (4) neither. They wrote:
We'd be comfortable calling it a foundational beer. We don't really refer to any beer in the lineup as a flagship. Along with a few others, it's one of our year-round offerings.
See, foundational does not (usually) mean flagship. More evidence? Consider this September 1990-ish beer column on the state of affairs in Lake Ontario land. It mentions the venerable and largely forgotten Great Lakes Lager. Foundation? Sure. Not the flagship. That's now Canuck Pale Ale. You know, flagship might also even be a slightly dirty word in the trade. A tough row to hoe for the industry marketers behind this scheme. But hope lives on eternally in such matters as we learned from the new CEO of Sierra Nevada who, faced with the task of turning things around for the musty ales of yore, stated:
…he's bullish on Sierra Nevada's prospects heading in 2019 and he's projecting 5 percent growth. He believes that advertising will help turn around Pale Ale's negative trajectory, and that continued growth for Hazy Little Thing, combined with increased focus on Hop Bullet and Sierraveza, will propel the company forward this year.
Advertising! How unlike beer macro industrial crap marketeers!! If that is the case, me, I am launching #FoundationAlesFriday come March to get my bit of the action. Join my thrilling pre-movement now.
Beer so horrible that it can't really be called beer is rising in popularity in Japan as sales of the real stuff and the semi-real stuff drops.
Elsewhere, I tweeted this in response to the wonderful Dr. J and I quite like it:
Well, the multiplication of "style" to mean just variation leads to a dubious construct that bears little connection to original intent and leaves beer drinkers more and more bewildered when facing the value proposition of fleetingly available brands however well made.
Let's let that sit there for a second. Fair?
Send a furloughed US Federal employee a beer. Or help with some unplanned bridge financing for an out of luck new brewery.
Even elsewhere-ier, Matt Curtis is to be praised and corrected this week. Corrected only in the respect that he wrote the utterly incorrect "in true journalistic style I was too polite to say" in his otherwise fabulous piece**** on what it was like going booze free for three weeks:
As I walked down Shoreditch High Street on my way to an event from the British Guild of Beer Writers showcasing alcohol free beers I passed some of my favourite bars and restaurants. I found myself pining to sit within them, simply to soak up the atmosphere. In that moment I felt that merely the sound of conversation and conviviality would sate my urge to drink more than any can or bottle of low alcohol vegetable water that has the indecency to call itself beer.
Lovely stuff.
Note: an excellent lesson in what it means to understand beer.  "It's what [XYZ] told me…" is never going to serve as reliable research. Just ask, beer writers! Ask!!! Conversely, this article in The Growler serves as an excellent introduction to the 18 month rise of kveik on the pop culture commercial craft scene. I say pop culture commercial craft as it has been around the actual craft scene for a number of hundreds of years. Much more here from Lars.
How's that? Enough for now? Winter getting you down? Remember: things could be worse. I think so. Don't forget to read Boak and Bailey on Saturday and then Stan on Monday if you want to stay on top of things. Perhaps he will update the impending contiguous v. non-contiguous acreage rumble we'll all be talking about in a few weeks.
*Buy Ontario Beer for more fabulous facts like this!
**Though I do like the concept of the pre-movement.
***Note: I make no comment on the wide variety of beer "wenches" or "nuts"… or "foxes" or "man" or any such other monikers. At least they don't claim to be an expert.
****The current edition of Boak and Bailey emailed newsletter contained this bit on Matt's experiment: "…it all seemed pretty reasonable to us. But even if it didn't, it wouldn't be any of our business. We did wince to see people in the business of beer berating him for his decision, and winced even more deeply when we saw people nagging at him to break his resolution." I agree that this is sad and, I would add, smacks of the nags shouldering the alky's burden themselves.