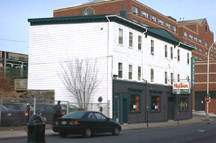 Midtown Tavern, R.I.P. David Swick has the whole story in Halifax Daily News.
A city that prides itself on its heritage, and a legendary tavern whose days are numbered. Sounds like a match made in tippling heaven. Operators of the Midtown Tavern in downtown Halifax have applied to the city to tear the old place down, to be replaced by a new drinking spot in a 20-storey hotel. Chances are good that this will actually happen. Times have changed. Even 10 years ago, the Midtown was hot, hot, hot. But plain decor and basic food are no longer the key to success.
"We still serve a tonne of food [Ed.: Dave, even I don't think Mr. Grant was thinking metric], but no one's drinking anymore," says Eric Grant, one of two sons of longtime owner Doug Grant. "We used to break even with the food and make money on the beer. You can't do that if people don't drink. If you won the lottery tomorrow and told me you wanted to open a tavern, I'd say you were crazy."
Doug Grant, now 78, has told his kids they can do what they want, Eric said. So they worked with a developer to create a plan, and are now taking calls from hotel chains, with an eye to putting a fancy new bar at the base of 20 storeys of rooms. Rather than unceremoniously destroy the Midtown, tourism and heritage officials might consider picking it up and moving it. Plunked down somewhere else in town, it could become a curious attraction. Here, after all, is a tavern that did not change for decades — and stayed enormously popular through almost all of that time.
We'll never see its like again.
Boiled dinner, two and juice. Even in my Halifax time, 1981 to 1992, you passed through the Midtown on your way to other bars, the Deck or the Seahorse. Now it would be a stop or more likely a walk by on the way to Rogues Roost. It wasn't the same after Jerry moved on a long time ago. He held the place open for us on a blizzardy Friday night.
Around 1984, I saw an oil painting of the Midtown jazzy on a rainy evening for $400.00. I kick my own arse thinking about not buying it. I had steak and egg and two and juice there before seeing Gretzky play for Canada ona Saturday afternoon in September 1983 against the Czeckoslovaks with Hasek either in goal or on the bench as a kid. I think I have had a beer with three-quarters of my best friends in that bar.