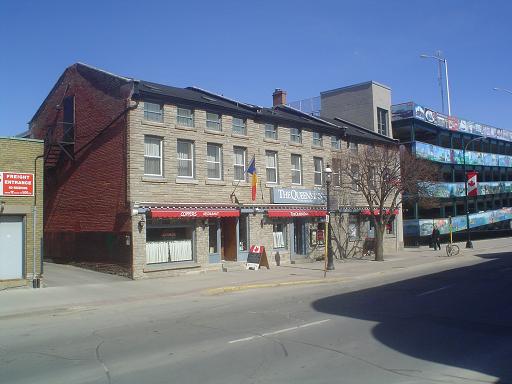 When I was going up to find the back view of the Royal Tavern the other day, I passed this pub and realized that it said established 1839 on the awning. For those of you in outside of North America, this may not be extraordinary but for Canada – especially west of Quebec – operating establishments of any kind older than, say, 1900 are rare.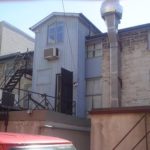 Far rarer are bevvy related things of that age as we had prohibition for a good chunk of the period before WWII. In PEI this lasted decades, from before WWI to after WWII. As a result, few aspects of the inn and pub life of the place remain. Ontario's prohibition lasted only from 1919 to 1927 but as this article points out the rippling effects of misguided do-goodery were felt for decades.
I had suspected the Queen's Inn in large part due to the brick wall seen in the alley and the somewhat phoney limestone rebuild out front but when you get back behind the place you see the real history. The brick wall in the alley must have been pit in when a neighbouring building was removed and you can clearly see from the rear views to the left and below that the limestone walls are indeed of the early or mid-1800s, rough and irregular. Similarly to the Royal Tavern, to the post on which I have added two exterior rear shots, there is the monarchist aspect to the name, too, that requires a certain age for the use of reference to the Crown to be grandfathered.
Also like the Royal Tavern, I have yet to make a stop at this pub but will do some interior reconnaissance soon.