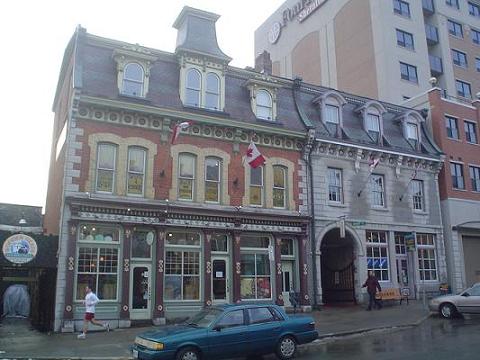 Readers in the local area may have noticed I have yet to write about the Kingston Brewing Company, more commonly called the Kingston Brew Pub. It's just that I have not got a set of photos that capture the place more than anything but I popped in mid-afternoon today and made a start.
I have been going to the Kingston Brew Pub for more than a decade. When we lived three hours drive away, during LBK (Life Before Kids) we planned long weekends around meals there. Now I work a block away and am happy because of it, even to pop in for the lunch special or a cup of coffee mid-afternoon. The beers on tap are mainly their own but they do have McAuslan Oatmeal Stout and Guinness – based on the belief, I think, that now one can improve much on these examples of the styles. There is a bloggers meet up tomorrow evening there at 5 pm so I will have more thoughts and notes on a couple of ales after that.
Later: Ok. I never took any notes. I blabbed about blogs and failed to note the Winter Whallop or the Dragon's Breath IPA. But I did get a couple of pictures of the upstairs.