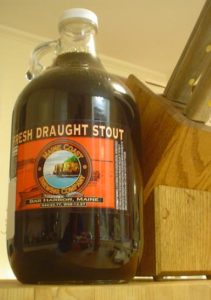 This is a smooth cream stout that goes off in a direction that I just don't quite get. A beige ring over really dark black ale. It has chocolate, licorice and roast barley notes but also a somewhat odd Mennonite apple butter thing in the middle. Not unpleasant but really big and malty like you might expect in an imperial stout but this brew has none of the whallop one of those packs. If it was called porter I would not be surprised either but it still wouldn't be right. Am I a stylistic prude?
Neat to see these guys brew six different stouts…but none called Fresh Draught Stout. Maybe its the Black Irish Stout as one beer advocate notes that it has an "agreeably lithe fruitiness of a vaguely pruneish nature emerges mid palate and lends a blurred bitter cocoa dusted dark fruit contrast." Wheee-yew! And I thought I was a ripe little adjective squeezer.
From Baaah Haaabaaah, State O'Maine. Something like $5.65 US a half gallon at RSVP Liquors in Portland Maine.