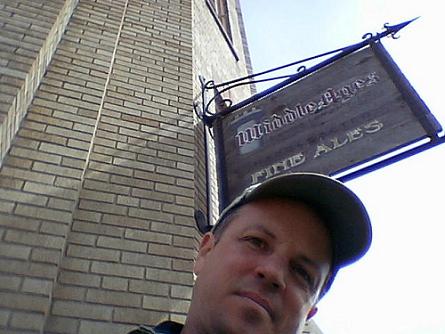 We had a bit of a beer blog break through as Gary and I met at Middle Ages Brewing in Syracuse NY as part of his day of two tailgates and my introduction to NCAA football. It was a perfect place to meet to start the day. Gary filled in when my camera's memory card let it be known that it was not about to cross international borders this weekend. The effect was top notch shoe camera.
Let me start by saying, this experience is fairly foreign to Canada but not unknown. Middle Ages opened its doors on Saturday at 11:30 am. Gary was there at the bell and reports that there were a couple of dozen beer fans lined up with growlers to be filled. Once those guys were served, two happy gents behind the bar asked what we wanted and sold us – no, gave us free 4 oz shots of their excellent fresh ale. I tried their porter, IPA and the double IPA. All were as good as I remembered. So good I bought the baseball hat. I figure that if a brewer is good enough to go into business, make great ale and then give it to you for free, you ought to buy the hat. Note also Gary's uncanny capture of the original portrait of the wench who wails. Gary also showed me the first beer blog award pottery component which now just needs me to forward the brass plaque for the 2006 award to be announced later in the year – though I already am pretty sure I know who is getting it.
I mention that I have not seen exactly this sort of thing in Canada before but I have almost seen it. In the days before the beer blog, I lived in the Maritimes and Halifax's Garrison Brewery would serve all you want. But it had to be booked and was a private affair for attendees only. You got to pour and hang around asking the happy patient brewer lots of repetitive questions and also get a tour of the place but it was not a moment to meet other beerfans and you did have to stick around for the time booked. I like the Middle Ages approach better.
So a return for the tour is definitely in order as are more secret assignments with Gary and the shoe phone.