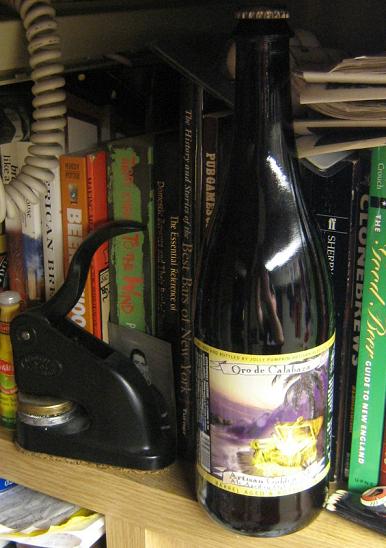 A busy day today that will hopefully continue but the one point of agreement seems to be Jolly Pumpkin beers and – oh, happy day – I have one in the stash. I have been known to Bam and Oro de Calabaza is the strong golden ale by the same happy gourd of a brewer.
Wow. It's like a cross between Duval and Fantome. Plenty of grain texture but a acidic, farm yard funk that leans towards a Flemish red. Plus, a whirlwind of fruit in the malt – yellow plum, pear, sultana. Black tea hops with a bit of white and black pepper. Fabulous. Golden light amber ale under a massive egg white head that keeps growing – it's alive.
I am heading in two Fridays to get to Jolly Pumpkin after a morning presentation in London Ontario to learn more. 100% of BAers are stunned by the quality.