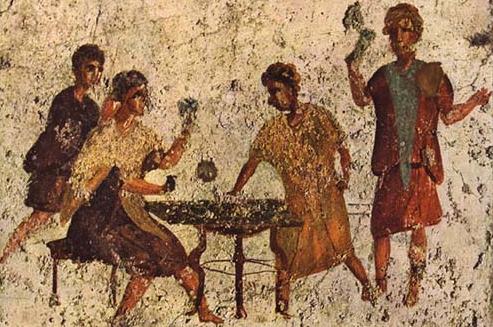 A depiction of the first debates on the rights
of beer drinkers, Greece 4th century BC.
I've been thinking about this beer stuff for a while now and have decided that it is right and proper that a Beer Drinkers' Bill of Rights for us all be established. Any bill of rights, after all, is just a statement of fundamental law under which the many and individually weak define their relationship with powerful forces controlling a jurisdiction, whether they be the state or in the trade. That being the case, it is time that we admit that we have a jurisdiction of our own, that we assert the existence of the nation of those who love beer and that we define some elemental principles which the people of that nation hold to be self-evident
To that end I propose as follows:
1. All have the right to beer, the right to own beer and the right to their own beer.
2. Local beer shall be available and shall be excellent.
3. Beer shall not be taxed in undue proportion to other consumables.
4. Beer, including its constituent elements, shall be explained and explicable to the drinkers of beer.
5. Regardless of the source, beer shall be snob-free, plainly advertised and made available with minimal intermediaries, both in terms of consultation and transaction between the brewer and the drinker.
6. Beer shall be offered in a variety of packaging formats which shall include low cost formats.
7. Beer shall be safe and shall be accepted as a wholesome food and shall be recognized as an important and moderate agent in the pursuit of happiness.
8. The diverse rights to and of beer enunciated herein shall be guaranteed subject only to such reasonable limits as can be demonstrably justified in a free and democratic society.
It may be the cold medications, sure, but I am convinced of the need of this. There may be amendments and additions to this list which can be submitted to via the comments as a form of constitutional assembly. Further, commentary upon each right shall be enunciated though discourse.