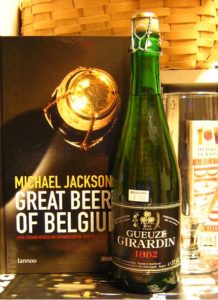 The 2006 edition of Great Beers of Belgium showed up today and I thought that I had better pop a cork in its honour. A Girardin Gueuze seemed just the thing. The "1882" on the label is the date when the current family took over the brewery and they brew comprehensively, perhaps still with no other staff. Jackson noted:
They grow their own wheat, brew Lambic in winter and produce a Pils in summer. The Girardins use 40 per cent wheat in their Lanic, and still have a mill that grinds the grain between stones, as well as a more modern one with metal cylinders. "We continue to use the stones for some of the grist," Lousi told me, "in case it contributes to the character of the beer."
I like that "in case" a fine expression of traditional conservatism. Jackson called it one of the most complex beers he had ever tasted. The black label (or in Flemish Zwart etiket) appears to indicate unfiltered [Ed.: ie fond] while a white label (or Wit etiket) would not [Ed.: ie filtré]…though neither Ed nor I quite know why "etiket" in Flemish means "label" in English. I bet Ron knows.
On the pour, the funk jumps out of the madly growing off white head that soon fall back at a leisure pace. Barnyard. Very evocative of poo and stall of a former neighbour's beef cattle barn. Plus rice wine vinegar as well as Gravenstein apple. But it is all wrapped around a small core of sweet. Once in the mouth, the barnyard knows and takes its place letting other flavours come forward. Overall, this is a far less austere Lambic experience compared to the stridency of Cantillon, even their gueuze. Relatively (by which I mean relatively) soft as well as acidic – an odd combination to describe but think mandarine orange juice without any orange flavour and a good slug of rice wine vinegar. Plenty of grain, a little lemon and a lot white grapefruit citrus, a little wheat cream even. Grassiness in the middle which morphs a little into something that is like a hint of licorice. Dry and acid and moreish in the finish. Fabulous. Love it. I am going to buy this beer whenever I see it. I promise me so.
Plenty of BAer love. $7.99 for 37.5 cl from Bello Vino in Ann Arbor Michigan.